THIS GIVEAWAY IS NOW CLOSED. Congrats to the winner: hen41500@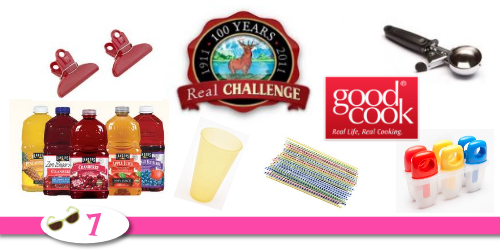 To kick off the summer, I'm excited to once again be part of the Grateful Giveaways group, bringing you 9 awesome giveaways for more summer fun. Watch for a new one every hour on the hour!
Be sure to scroll to the bottom for 9 more blogs that are offering this same giveaway prize.
Whether slathered on corn on the cob or baked into a crispy cobbler, butter is a key ingredient for your summer barbecue, and next up is a fun package that includes not just Challenge Butter but also Langers Juice and fun kitchen tools from Good Cook to help you welcome summer into your kitchen!
Challenge Butter:
Challenge Dairy Products, Inc. is a cooperative association responsible for the marketing and distribution of dairy products produced from 450 large family-owned dairies since 1911. Challenge Butter is the largest selling brand in the West, offering consistent quality that meets the highest standards.

Please note that Challenge Butter is only available in western states. See the full list of locations here.

Langers Juice:
Langers makes juice, and they drink a lot of juice as well. In fact, they taste every batch before the Langer label reaches the bottle. Since the formation of the company in 1960, the Langer family has remained actively involved in every aspect of making juice, from production and marketing to quality assurance

Good Cook:
The Good Cook brand was launched in 1987, with an operating philosophy of incorporating quality, value and service into every product, which includes kitchen tools and gadgets, bakeware, cookware, food storage and tabletop products.

Challenge Butter "Real Summer. Real Fun." Sweepstakes:
From now through 9/15/12, enter the "Real Summer. Real Fun." Sweepstakes! Spin the wheel up to six times a day for a chance to win the grand prize of $100,000 or one of over 1,000 other prizes, including cash, $1 printable coupons, Good Cook summer prize packages and free Challenge Butter and Langers Juice vouchers.
Don't forget to follow Challenge Butter on Facebook.
One lucky Life as MOM reader will win a Real Summer. Real Fun. package, including:
5 FREE Challenge Butter product coupons
5 FREE Langers Juice vouchers
Good Cook Twister Ice Cream Scoop
4 Good Cook Plastic Tumblers
Good Cook Ice Pop Maker
Good Cook Chip Clip
Good Cook Watermelon Knife
Entry is simple: just fill out this form:
Please note this information is being gathered solely for administrative purposes to send the winners their prizes. This information will not be given out, sold, or otherwise shared with any other sources.
This giveaway will remain open until 11:59 p.m. EST, Tuesday 6/12 and is limited to US residents, 18 years or older. Friends and family of Jessica Fisher and Life as Mom are ineligible for entry. Any comments left after this cut-off will not be counted. The winner will be selected randomly and will be notified via email within 48 hours after the close of the contest. This post will be updated with the beginning of the winner's email addresses. The prize for this promotion is provided by and shipped by Challenge Butter and/or its representatives. Jessica Fisher and Life as MOM will not be held responsible for unclaimed or undelivered prizes.
This giveaway is part of the Grateful Giveaways: Summer Family Fun Event being hosted by myself and 9 other bloggers. You can increase your chances of winning this prize (as well as all of the others on this site), by visiting each of them and entering the giveaway. You have plenty of time to get to all of them, since the contest will be open for five full days.
If you haven't already done so, you might want to print out this spreadsheet to help guide you through all of the entries on all of the blogs.
As one final reminder, you will want to check out the terms of the giveaway by visiting the Grateful Giveaways: Summer Family Fun Facebook page. Just click on the Terms tab on the left side of the page. (Note that by entering this contest, you agree that you have read the terms and are eligible to enter this contest).
Disclosure: I received the same gift package that the winner will be receiving to facilitate my review. I did not receive any compensation to write this post, but there may be affiliate links that benefit me financially. Either way, the opinions are all mine!