In the market for a good cookbook? The following are tried-and-true books that I go to often, particularly for baking. Obviously, I like specialty books. I've found that if I want to prepare a certain type of food, a book dedicated to that genre is the best way to learn how to do it well. These are some of my favorites, well-stained as all good cookbooks should be. Check them out from the library to try them out. You'll be glad you did.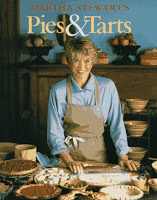 Martha Stewart's Pies and Tarts Even though she's an ex-con, Martha's got some great cookbooks out there. Since pie is my personal favorite where desserts are concerned, I love this book. The pictures are beautiful, and the recipes are great. I particularly like the easy apple pie with a crumb top. And when I don't make Gramma John's pie crust, I make Martha's.
The California Pizza Kitchen is one of our favorite restaurants. FishPapa and I have been going there since we were dating. Seventeen years later, we still love to eat at CPK. And creatures of habit that we are, we still order the same things: a caesar salad to split, santa fe chicken pizza for him, a goat cheese and grilled veggie pizza for me. My sister gave me the California Pizza Kitchen Cookbook years ago and that has enabled me to recreate our favorites at home. The pizza dough recipe is great. And the method of letting it rise in the refrigerator overnight is a must-do.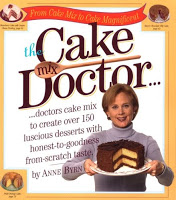 Though pie is my dessert of choice, this is not the case for the men in my life. After several flops in the homemade cake department, I broke down and bought The Cake Mix Doctor. What a lifesaver! This book offers dozens of embellishments to your regular old grocery store mix. My favorite is Darn Good Chocolate Cake, though there are other good ones in here. Don't turn your nose up at a mix, this book will make you stock up next sale you see.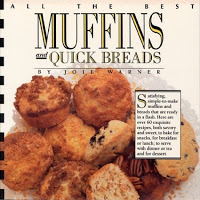 We received All the Best Muffins and Quick Breads as a wedding gift fifteen years ago. It is chock full of all sorts of wonderful muffin recipes, including the infamous Raspberry Streusel Muffin. Oh my! Those are good. Got a hankering for a certain kind of muffin? Chances are you'll find recipe in this book.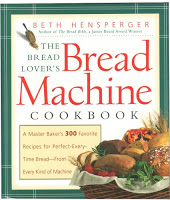 When I got my first bread machine (I'm on my second), I was so disappointed when the bread flopped. Refusing to throw in the towel, I scoured the book store for something that would make my bread machine bread baking a success. The Bread Lover's Bread Machine Cookbook was the answer. My copy of the book is literally falling apart, but it is a necessary component of my cookbook library. We regularly enjoy foccaccia, cinnamon rolls and homemade hamburger buns thanks to this book. It's a must-have in my opinion.
Got a favorite baking cookbook? Tell us about it.