Great Boy Gifts
We are a participant in the Amazon Services LLC Associates Program, an affiliate advertising program designed to provide a means for us to earn fees by linking to Amazon.com and affiliated sites. We participate in other affiliate programs as well. For more details, please see our disclosure policy.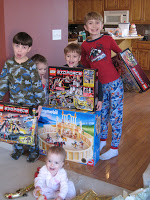 As the mother of four boys, I like to think of myself as a pseudo-expert on all things "boyish." If we had stopped at four children, testosterone would be all I knew. And since my girlies are still so small, our lives are still very masculine around here. As a result, I know all about boy gifts.
A friend recently asked for gift suggestions for boys, so I thought I would share my list of great boy stuff with you. Once I got started listing things they like, however, it seemed like the list would never end. Here are some of the highlights rather than an exhaustive list.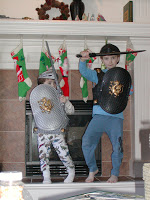 1. Weaponry – I know parents have differing ideas about play weaponry. We don't do much in the way of toy guns, but when we do, it is because my children are reenacting some famous scene from history, as in Davy Crockett or George Washington. Plastic swords and armor and light sabers are usually the weapons of choice as they act out fantasy play of knights, pirates, and jedis.
I haven't found super durable specimens, however. The in-laws ask for gift suggestions and I always answer, "Swords and shields." And they say, "Didn't we get that for you last year?" And I say, "Yes, you did."
My swashbucklers can outlive any toy saber.
2. Costumes – Hand in hand with weapons are the costumes to go with. As mentioned, we're big on knights, pirates, and jedis around here. The FishBoys have also enjoyed dressing up as Roman Gladiators, workermen, sailors, patriots, and even Pharoah. (Love that Roman soldier helmet!)
Often we take a store-bought item, like a hat, and add to the costume with what we have on hand. One "Patriot"-themed Christmas, we gave the boys costume shop tricorn hats and frilly shirts that I had made by sewing a bunch of lace to a white tshirt.
3. Playmobil is one of our very favorite toys. We have added to our collection slowly over the years, acquiring several different themes: City, Pirates, Romans, and Knights. Though I need more Playmobil like I need a hole in the head, I was kind of excited to see their new dinosaur items.
Playmobil is a major building block of most of the Birthday Cakes I make around here. The sets range in size from very small, appropriate for stuffing in a Christmas stocking, to very large which will make their eyes bug out and take up many hours of playtime.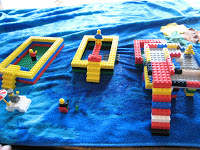 4. Legos
are hugely popular with my boys. I held out as long as possible before I allowed a single brick in my home. My youngest brother was (and still is) a fanatic, and the wounds in my feet from stepping on them still haven't healed. But, boys of all ages LOVE Lego.
You don't have to get a huge set to please the little man on your list. A small building set is great for the imagination. However, the the New LEGO® Indiana Jones™ Collection
and Star Wars
sets are big hits around here.
5. Nintendo is also another great thing that my boys obsess about, I mean, really like. Currently they enjoy GameCube, Wii, and GameBoy Advance. One of my favorite games is Mario Kart, though they really like the Legend of Zelda. But, gifts can be associated with the game characters and not be the game, itself. (Games can be kind of pricey.) The boys love getting tshirts with their favorite characters on them.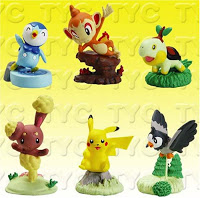 6. Pokemon entered our life in a random way, simply picking up a video at the library. However, the videos are very well done and the kids have enjoyed learning about the different pokemon, creatures with different powers. They've enjoyed playing with the miniatures and Pokedex, a self-contained handheld game. I'm contemplating getting them this guessing game, especially since it is non-electronic and requires that they talk to each other.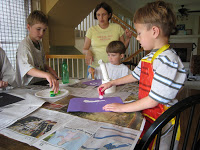 7. Art supplies are a great gift idea, no matter boy or girl. I love this line of supplies by Melissa and Doug, including an easel, paper, and paints. One year we received a book making kit, another year a kit to make plates, bowls, and mugs. These require your mailing in the artwork to have it processed. As long as you know you will follow through, these make great keepsakes of your kids' artwork.
8. Lastly, good old fashioned card and board games are just as much fun as any of these other fancy gadgets, particularly if an adult is playing with them. Our family's favorites include Battleship, Blink, Uno, and Skip-Bo.
These kind of games tend to very affordable, especially at this time of year. I try to get at least one new game each Christmas so that we have a quiet activity for the whole family to do on Christmas Day. This year I am trying to find Rock! It's a card game based on Rock, Paper, Scissors, but the images are different forms of those elements, making it a little more challenging to call out the names. I'm finding it tough to track down this game. So, if you see it, let me know!
Like I said, this is just the tip of the iceberg in terms of great boy gifts. Got an idea to share? See ya in the comments section!