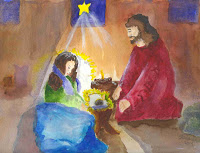 One of the themes of getting organized for Christmas is to plan ahead. In doing so, we can give concentrated thought to goals and gift-giving ideas for the season. We also gain the advantage of being able to shop around and find good values.
And here is a great resource I wanted to share with you: Sheila Howe Designs.
In addition to being a busy mom of four young children, Sheila is a talented watercolorist. Years ago I received one of her beautiful hydrangea prints that now hangs in my bathroom. I love looking at it; it is so beautiful and soothing.
Sheila has a complete range of products from original watercolor paintings to matted prints to blank and personalized notecards. Any of these would make excellent Christmas gifts.
And for the rest of the month, Sheila is offering reduced prices to LifeasMOM readers! Check out Sheila's site and see all that she has to offer, including (you guessed it) several beautiful Christmas and holiday designs.
Don't forget to tell her that FishMama sent you!