There's no end to all the things that you can grill! Try pizza, meatloaf, and even vegetables in parchment packets.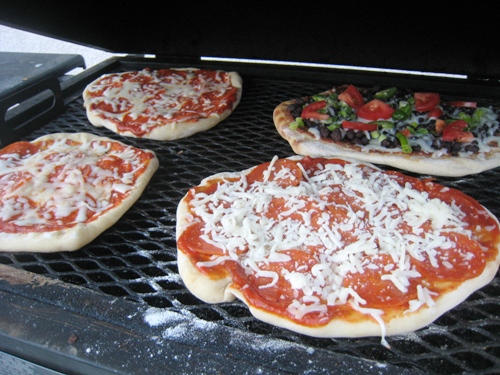 Summer has come to San Diego. We've been sweating it for several weeks now. And I shake my head in disbelief that other parts of the nation are reporting cooler temps now that we're just starting to heat up.
Part and parcel with the warmer weather comes a call from the electric company to "reduce our use". We don't have air conditioner to mess with, so reducing our use really meant not using the electric oven, washer, dryer, or dishwasher as well as unplugging most devices. (And yes, no AC means we're extra hot!)
Since the hours of the energy reduction lands at lunch and dinner time and it's been stinking hot anyway, I've opted to serve cooler and/or low-energy suppers. That means grilling as much as I can.
We've grilled pizzas, flatbread (with this naan recipe), steaks, meatloaf, fish, chicken, and lots and lots of vegetables. By grilling the meat and veg outside, I can cook some rice on the stove or serve some simple couscous, and we're all set.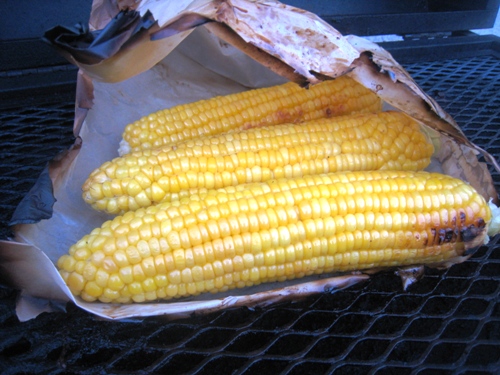 Grilling in parchment is a recent experiment. I found these great parchment bags on clearance at Ralphs. They made perfect packages for grilling green beans and corn without getting the veg too black.
Grilled Vegetables in Parchment

Simply toss or rub the veg with a little olive oil, seasoned it with salt and pepper, and wrapped it up. Cook for about ten minutes and voila! Cooked vegetables without a lot of fuss. Near the end of the cooking time, I opened the package so that the veg could gain some smoky flavor.

I haven't tested the parchment over a charcoal fire, so I'm not sure about the flammability issue. My parchment bags said they were safe to 450° which is about as hot as our Holland Grill gets.
Do you have a favorite thing to grill? Tell us about it!


URS Guidelines
Remember: Each week at Ultimate Recipe Swap, there is a posted theme. You are welcome to share any recipe that fits the theme and contains a link back to Life as MOM. If you're curious about the upcoming themes, I have a calendar here. This week's theme is BBQ Favorites.
If you have a recipe that fits the theme, please link it. However, things like Beef Strogonaff will be deleted from Chicken week because it doesn't contain chicken. Please keep this meme as helpful to others as we can.
And don't make me the bad guy! 

What is your favorite recipe for grilling?