Grocery Geek: At a Crossroads
We are a participant in the Amazon Services LLC Associates Program, an affiliate advertising program designed to provide a means for us to earn fees by linking to Amazon.com and affiliated sites. We participate in other affiliate programs as well. For more details, please see our disclosure policy.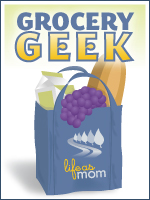 My grocery shopping adventures have met a crossroads. Tonight at dinner my boys each asked for a second hamburger. I only made eight, so that was quite impossible. They "filled up" on Sunchips and carrots. But, it gave me pause.
A Growing Family
My family is growing. With a husband doing manual labor most days and four sons aged 14, 10, 9, and 7, the quantity of food I need to prepare is growing. No, they aren't eating junk. And no, they aren't overeating. All the boys are pretty slim and trim.
But, food, whether that's burgers, peaches, or pumpkin pie, is disappearing at a pretty fast clip. This is to be expected and normal I think for a growing family.

Fewer Processed Foods
Today in line at Walmart, I watched the woman ahead of me unload several cases of beer and soda as well as several boxes of Captain Crunch, Lunchables, and many bags of snacks I didn't recognize. There was no milk, no produce, and no fresh meat. The only "real food" she had in the cart was bottled water. And that made me think.
Not in a judgemental way — I have no idea what else she has at home or if this is a once-in-a-lifetime kind of purchase. There's a lot of unknown in that equation. But, it made me reflect on how our family's eating habits have changed over the last year or two.
We still eat some processed foods (the aforementioned Sunchips, for example) and I love to eat out. But, I've been making a lot more from scratch. And I haven't bought pop in quite a long time. A Vanilla Coke used to be my regular, daily habit.
Not so Great Deals
On top of all that, I've not used more than a handful of coupons in the last six weeks. Sales have never been as good in California as they were in Kansas, same with the coupon deals. With the economy what it is, I don't expect this to improve in the coming months.
Clearly, my shopping and cooking habits have changed — and the store deals have as well. And so here we are at a crossroads. I still love to grocery shop; I still love to cook good food; I still love to save money. But, I'm kinda curious what form my grocery geekiness will take in the coming months or how my food budget will change.
One thing I do know, is that I will not go quietly. I don't think I will ever have quite the full cereal cupboard for practically FREE that I once did. So, I'm going to continue plugging along, buying the (healthier) loss leaders, and trying to make the most of what we have.
That said, this week's big shopping trip looked like this: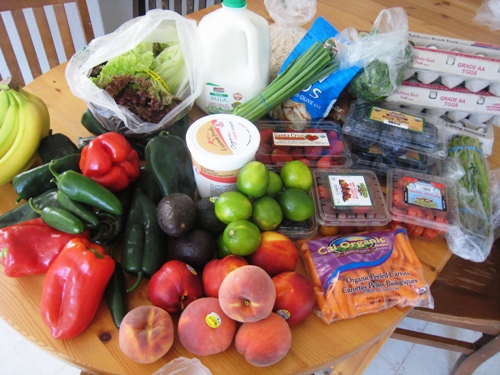 I spent $54 on the dairy and produce pictured, some organic, some not. Hubs spent another $16 when he picked up some things I forgot. I spent another $20 in Walmart today. For the week, we're at $90. We still have a few freezer meals and some meats in the freezer as well as pasta, beans, and rice in the cupboard.
Full disclosure: last week I spent about $140 at Costco and $100 at Trader Joe's on the basics. We had depleted our stores in July and with my mom coming to watch the kids while I was at a conference, I wanted to make sure that they had plenty.
So, for the month we're at $330. There's a whole lot of month left, so we'll see how it goes. I have a feeling that I will need to bake up a storm soon — and do some extra rice and beans nights if we're going to stay under budget.
Are you seeing changes in your grocery buying habits?