Ya know, I had all these big plans to make Costco my life. Yes, I was just going to tailor all my menus and shopping lists so that I could take advantage of their good deals and do the majority of my shopping there.
However, after a month of it, I find myself running out of things and still going to the grocery store or having FishPapa stop on his way home from work. Costco is not the closest store, so it's not as convenient as other stores. Plus, for some reason, we've gone over budget this month. Thankfully, we had some extra cash to absorb the overage, but still….
So, as they say, back to the drawing board. Or, back to coupons as the case may be. What my month of Costco did do was give me a little breather in terms of anxiety. Since I had bought a month's worth of diapers, I didn't feel pressure to find a deal right away. I could relax and let the deals come to me, rather than frantically searching for them.
As it is, here's the last week's haul:
Sprouts $55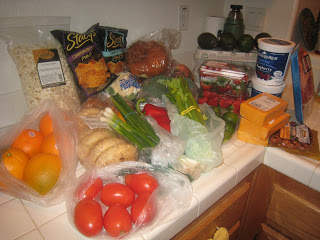 Sprouts is a great whole-foods type store that features awesome deals on produce, meat, and dairy. If you don't work the sales, you'll "get hosed" as my younger brother says. But, the sales are fantastic, as you see here:
roma tomatoes $0.99
avocados $0.49
Stacy's pita chips $2 – $1.50 coupon = $0.50 /bag
oranges $0.49/#
organic apples $0.77
bagels $2/6
green onions $.50
organic celery $1.69
Mt High yogurt $2 – .50 coupon = $1.50
extra large eggs $1.50/doz
strawberries $1.25/#
cheddar $1.88/#
bell peppers $.69 each
Ralphs $65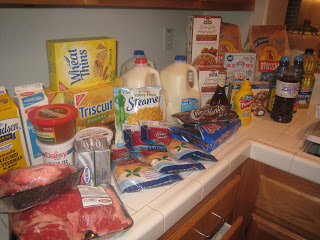 Ralphs had their Mix and Match sale again where you buy 10 specified items and get $5 off your order. I bought 20 items, prices are after after sale and coupon:
instant multi grain oatmeals $1 a box (there are more $1 coupons inside each box!)
sour cream $0.50
mustard free
cheese $1.25/8 oz. bag
crackers $1/box
cream cheese $1/package
steamers $.50
propel $.50
FiberOne bars $1
This sale is on until Tuesday night if you want to take advantage of it.