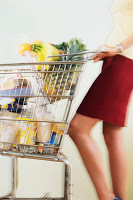 Well, when I hit the ground here in So Cal last week, I was a little wary as to how I was going to swing my $400/mo food & toiletry budget. That was one of my major accomplishments of last Spring – reducing our food costs by half. Can I do it in the Golden State? Some are skeptical. Well, I'm here to prove them wrong.
(Just go ahead and tell me I'm not capable of something.)
Anywho, Grampa Jack treated us to a trip to Trader Joe's. While full of "fun food" and a few good prices on milk and butter, TJ's is not going to be a regular stop on my grocery gathering route. But, one can always dream…. For those of you who don't know TJ's – it's like Aldi and Whole Foods got married and had a baby.
One of the things I've noticed about this area (a suburb of San Diego) is that grocery stores and pharmacies are not parked on every street corner as they are in Kansas City. So, I will be a little more judicious in my shopping. And it is going to take me a few weeks to see how each of the major markets (Vons, Albertons, and Ralphs) operates. This past week I visited two.
Ralphs – I hit this store before our trailer full o' stuff came, so I was just picking up a few meals' worth of food. I didn't bother with coupons, but kinda cased the joint, so to speak. Ralphs is a Kroger company, so they offer double coupons as well as frequent markdowns for quick sale. The markdowns I saw were not near their dates, but just products or sizes they were discontinuing. Coupled with coupons they would be great bargains. There is a Ralphs on the way home from FishPapa's work, so he may be the Go-To Guy for Ralphs shoppping. We shall see.
Yesterday morning I made it to Albertsons. They had tons of deals going. Tons! They operate similar to Walgreens and CVS; Buy 10 of this, get $3 off your order. Instead of a coupon, you get instant savings. I like that. The crew there was super nice and friendly.
The butcher asked if I needed something, and I explained my $400/mo budget and my target price of $2/# on meat. He immediately became my advocate! He said to call him each week and he'd help me score the best deals they had. How cool is that?!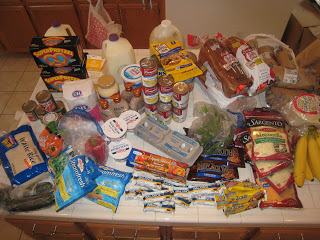 I noticed that regular prices are very, very high. Much higher than my sweet SuperWalmart back in KC. So, loss leaders and stockpiling are the name of the game from here on out. I'm going to have to nab the good deals (which are very good, even by national standards) when they are to be had. Here's my list to give you an idea of what I am working with. Any suggestions on how to swing the CA grocery thing are always appreciated.
large bottle cooking oil 9.99
2 gallons nonfat milk for 4.99
2 # rice 5.99 (ouch!)
eggs 2.49
buttermilk 1.99
large container yogurt 2.79
Better than Bouillion 5.99 (organic was the same price as reg, so I got the OG)
tomato sauce 3/1.00
BirdsEye Steamfresh 1.04/bag (sale + coupon)
sugar 1.75/5# (sale + coupon)
Heath toffee bits .70
Hershey chocolate chips .70
butter 3.00
Sara Lee sandwich bread 1.40
Campbells cream of chicken .60 (sale + coupon)
frozen pretzels .65/box (sale + coupon)
Daisy sour cream .35/8 oz. (sale + coupon)
mayo 3.00
super large can pintos 2.00
Nestle cookie dough .75 (sale + coupon)
Balance bars .70 (sale + coupon)
Softsoap .35 (sale + coupon)
Zone Perfect bars FREE (sale + coupon)
Fast Fixin's chicken nuggets and strips .25 (sale + coupon)
ground beef 1.99/#
Boneless, skinless chicken breast 1.79/#
Sargento grated cheese 1.75/8 oz.
36 ct corn tortillas 1.69
Pepperoni 3.50
misc produce
Grand TOTAL $124.52
Not bad. This should cover at least a week with extra for the stockpile. Come back Monday to see my menu plan.