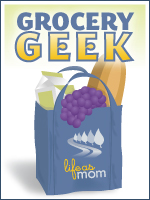 I didn't realize that when I was placing different co-op orders that they would all converge on the same day. The same day as double ad day at Sprouts, even. It makes me sound like a hard-core shopper!
I told you I was reforming my ways.
But those stops were all on my list Wednesday. So, I was one wiped out woman by the time we made our rounds, meeting big semi trucks to unload big bulk packages and herding five kids through the grocery store. And that didn't even count putting the food away or cooking it up!
I spent $100 on our Azure Standard order. Enough flour, sugar cane juice crystals, and rice cakes to last through…. well, awhile, anyway. I also thought we'd try out a whole grain cracker (note: one box) and that I'd experiment making my own vanilla extract, so I bought some vanilla beans. It won't be ready until Spring and by then what I have will be gone.
Here's how things come packaged from Azure Standard: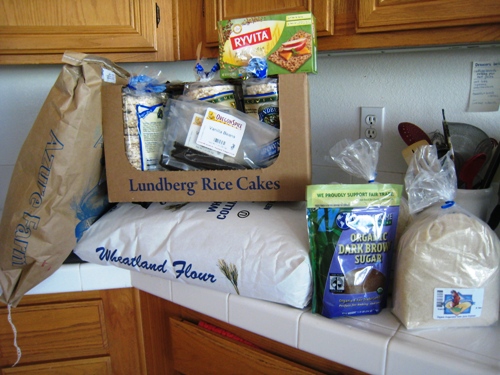 I confess to being a little overwhelmed by the ginormous bags. It's only the second time in a year that I've ordered. The jury is still out on whether or not this will be a regular gig.
Our box from Abundant Harvest Organics was particularly fun as they added a surprise load of plums. Yum! I never knew I liked plums until we tried the plums from the AHO. They are a whole other creation than what I've been getting at the grocery store. I'll never be able to go back.
The box has mostly normal stuff this week, though I do have a traffic jam of squash and eggplant. My freezer can only hold so much ratatouille!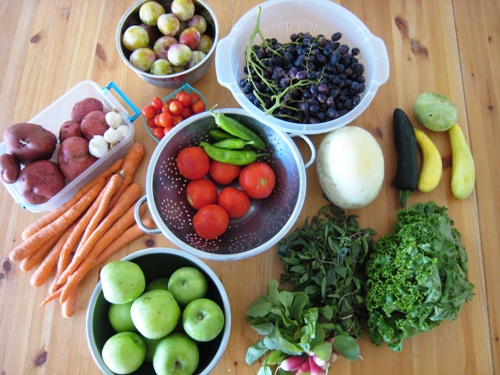 This week's box held: tomatoes, cherry tomatoes, apples, grapes, plums, melons, garlic, hot and bell peppers, squash, mint, lettuce, potatoes, radishes, and carrots. The subscription is $38.80 per week.
I made mint syrup right away to add to hot cocoa and coffee drinks. Yum!
I also bought 20 pounds of granny smith apples ($16.00). I figure 80 cents a pound for organics is reasonable. Not the cheapest I've ever seen, but definitely good.
As if that wasn't enough, five children and I rolled through Sprouts-the-store-formerly-known-as-Henry's-that-I-wish-still-were. I don't even remember what we bought. Eggs? Protein powder? limes and cilantro? Some chicken? I think I've blocked it out. All I remember is that the bill was under 50 bucks, which wasn't bad considering the whey protein was like $16.
So, all that totaled up? I think we spent a little over $200. I'm not sure what I've spent all month, but there's still some money in the envelope to get milk and cheese and whatever else we need this coming week.
I'm ready to stop shopping. But, I'm not sure anyone is ready to stop eating.