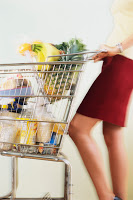 It felt wierd to realize that I had not been in a grocery store for about 3 weeks. FishBaby will be two weeks old tomorrow and for that last prenatal week, well, I stayed in bed! That explains why we only spent $200 on groceries in August. (Thanks Mom, Dad, and Auntie Jamie!)
So yesterday I went through my coupons, gathered the baby and FishBoy11 and headed out. To be honest, I was pretty relieved that the sales weren't that great because then I had a great excuse not to go to every store on the planet. Instead, we did Walmart and Price Chopper. I stayed under budget and was able to stock up on some things to get us through the next three weeks until we hit the Western Trail.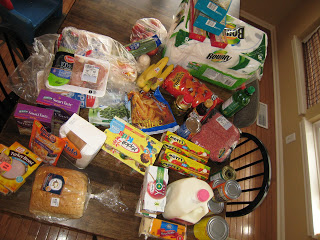 Here's what $92.34 got me:
about 14 pounds of boneless, skinless chicken breast @ $1.69/#
Uncle Ben's ready rice, free with coupon
Oscar Mayer turkey breast, marked down to $1.49/pkg
Krunchers potato chips (yes, a splurge) 2.75 – $1 coupon = 1.75
2 pounds bananas $1.32
8 rolls paper towels $4.97
green onions $1.18
2.6 # nectarines @ .98/#
mushrooms
corn tortillas 3 doz = $1.72
enchilada sauce $1.88 flour $2.56
black beans .54/can
vinegar 1.52
applesauce 1.50
green olives (another splurge) 1.44
grands biscuit $1.43 – $1 coupon = .43
Rotini Smart Taste pasta $1.50 – $1 coupon = .50
Yo+ yogurt $2.23- $1 coupon = 1.23/4pk
Dora and Diego yogurt 2.27 – $1.50 coupon = .77/6pk
cheese 4.36/# (not a good deal, but the best Walmart had)
lots of pasta $.82-.97/#
frozen french fries $1.66/2#
GG Valley steamers green beans $1.23 – $1 coupon = .23
sourdough bread reduced to $1.50
milk $3.36
Come back Monday to see what I'm going to do with it all!