Grocery Geek: Mergers, Buy-Outs & a Pantry Challenge
We are a participant in the Amazon Services LLC Associates Program, an affiliate advertising program designed to provide a means for us to earn fees by linking to Amazon.com and affiliated sites. We participate in other affiliate programs as well. For more details, please see our disclosure policy.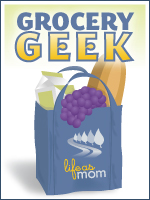 You know you're a grocery geek when you spend time researching the origins and founders of certain grocery stores and wonder if mergers and buy-outs are going to have a negative impact on your weekly shopping trip.
I'm sure most people don't give these things a second thought. But since I rely on  knowledge of each store's rules and regulations, and yes, even their histories, to help me keep our budget in check, it was a big deal to me this week to hear that Henry's Markets and Sprouts of California have merged.
And to be honest, this news didn't make me happy. While the two stores have competing sale prices, I've had terrible experiences with Sprouts' meat and produce over the last year. So much so, that I've ceased to shop at Sprouts altogether. It doesn't matter that it's the farther store; at one time I was willing to make the treck for their clearance bread. But, a few too many bad apples convinced me it really wasn't worth great prices on day old bread.
So, I'm not sure about this Henry's buyout. The manager got a little defensive on my trip there this week, claiming that Henry's was Sprouts to begin with. But, that's not what I read.
See? Total grocery geek. But are you going to come to blows with a manager over how Sprouts was really the second company and not the first? Clearly I need to pick up some more hobbies.
Anywho, I did make one grocery stop this week: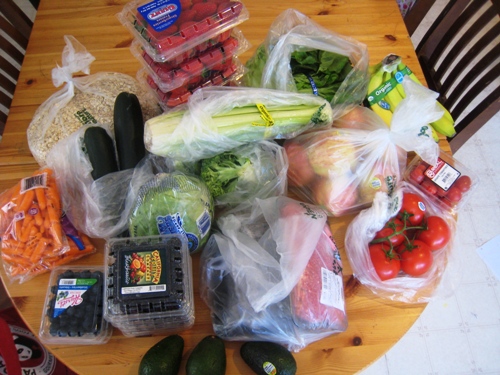 $52 will get you all this at Sprouts-the-store-formerly-known-as-Henry's-which-was-really-always-Henry's-but-I-won't-argue-with-you-about-it.
Purchases included conventional berries, cucumbers, lettuce, avocados, tomatoes, lettuce, and broccoli, as well as organic carrots, celery, bananas, and grape tomatoes. Oats were on a killer sale @ $.69/pound, so I had to get some. And beef which rarely goes on sale these days was $2.99 for extra lean Angus beef. And since I love my latest Bleu Cheese burger with Chipotle Mayonnaise, I had to get it.
I had to.
So, I think that brings our grocery expenses to $325 for the month. Yet, our milk supply is dwindling as is the coffee. And we have a date with some smores at the beach, so I need to rustle up some of those fixins. I'm sure I'll be making a weekend stop at Walmart.
But, so far, so good, eh? We've only eaten out once in the last week — and we're eating like kings. I still haven't busted out the turkey from the freezer yet, either. Check back tomorrow for my meal plan and how these new purchases are fitting in.
Do YOU care about grocery store mergers?