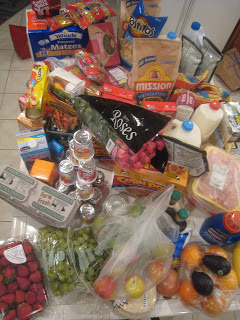 I confess that I'm still struggling to find the right budget point for our groceries. (By groceries, I mean food, cleaning supplies, toiletries, medicines, and diaper supplies. So, it's a pretty broad category. Since I track everything in Quicken, it is just easier to make sure purchases made at CVS, Walgreens, and grocery stores just go under the same category rather than examining every receipt and categorizing cleaning supplies separate from food.)
It seems to be that in order to have wiggle room to stockpile, I have to have a little extra in the budget. I know that I can feed our family for $100/week, but that doesn't give an allowance to pick up some really good deals to use for later. Like Merchant Ships said it well in her post today, "Stock up at the price YOU want to pay, and you'll never be bound by the sales cycle again."
That's what I'm trying to do. So, it involves investing in my pantry so that I can pay the price that is right, rather than 3x that when I need it. I guess that's what stockpiling is about.
That said, I got quite a lot of food for my 126 bucks.
applesauce 6 pk $1
tomato sauce $.40
corn starch $1.49
pudding 4 pk $0.25
bertolli sauce $0.50
pace salsa free plus overage
lots of pasta $0.75/package
chips $2.50
cake mixes $0.75
butter $1.50/#
Yo plus $1.25
sliced ham $1.50
pot roast $1.47/#
croutons $0.75/bag
strawberries $1/#
bagged salad $0.75
roses free after coupon
kosher salt $2.39
mapleine $2.79
water chestnuts $0.69
salad dressings 2/$1.29
matzos free w/ $25 purchase
Tostitos free w/ $25 purchase
Tillamook cheddar $3/#
Yoplait yogurt $.40 each
corn dogs $2.99/16 pk
frozen french fries $2.50/2 # bag
grapes $0.79/#
oranges $0.39/#
corn tortillas $1.99/3 dozen
sourdough bread $2.50
eggs $1.50/dozen
half & half $1.79/qt
milk $1.99/gallon
milk $1.49/half gallon
chicken breast $1.99/#
apples $0.77/#
avocados $0.77/ea
onions $0.49/#
bananas $0.67/#
Next week, I'll be picking up my Adventures in Couponing series by explaining about price books and what I think are good prices to shoot for.
For further inspiration to save money at the checkout, visit Money Saving Mom every Saturday.