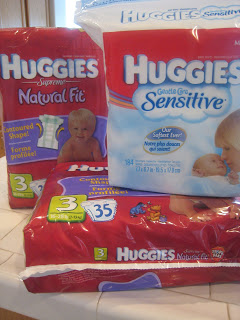 'Tis true. 'Tis true. Gotta love that CVS. As I reported in my Mom Deals of the Week, there was a great diaper deal going at CVS this week. Buy $25 worth of select Huggies and other baby products, get $10 back in ECBs. Since I had several $5 and $3 Huggies coupons left from Coupons.com, I combined them to score big in the potty products.
2 packages Huggies $10 each = $20
1 package Huggies wipes = $5
Subtotal $25.00 + tax
Minus $5 Huggies coupon (for wipes)
Minus $3 Huggies coupon (for diapers)
Minus $3 Huggies coupon (for diapers)
Total $14 + tax, paid in ECBs and cash
Rec'd back $10 ECBs, making my cost $4(+tax) for all that is pictured.
Pretty close to a perfect deal, I think.
Check back Saturday afternoon for the MOM Deals report as well as a CVS primer for the week.