Grocery Geek Presents: 50 Cent Cereal AGAIN!
We are a participant in the Amazon Services LLC Associates Program, an affiliate advertising program designed to provide a means for us to earn fees by linking to Amazon.com and affiliated sites. We participate in other affiliate programs as well. For more details, please see our disclosure policy.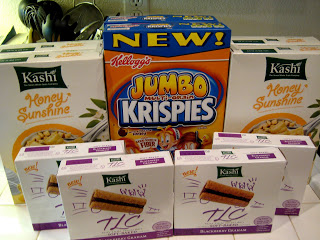 Y'all were doubting me when I said that my target price for cereal was fifty cents, weren't ya? But, looky here! Kashi cereal for $.50 a box. Oh me oh my.
Albertsons has a great deal on Kashi products this week 2/$6 doesn't sound like a deal, but when you buy 4, they'll give you back $4. Throw in 4 coupons each for $1.50 off and you've got cereal bars and cereal for fifty cents. Yes, ma'am.
Now I did fudge and pay $.88/box for the Jumbo Rice Krispies. I have a little "buyer's remorse" on those as they seem to have a lot more sugar than the traditional krispies. But, we'll eat them for dessert some night and call it good.
In other news, I said I wasn't going to buy any more groceries. BUT….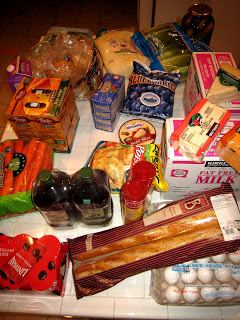 We were out of milk and most of the fridge shelves were empty, and my poor ears couldn't handle the children's cries for food. So, we made a mid-week trip to Costco and stocked up on some great deals for the basics: lettuce, milk, cheese, and eggs are rock-bottom prices there. They also have very good prices on olive oil, chicken broth, and a host of other ingredients.
I guess I'll save the Eat-from-the-Pantry challenge for actual moving week.