Safeway recently sent me a $50 gift card to see how far I could make it stretch at my local Safeway affiliate, Vons. The card arrived yesterday so after some internet research and some clever coupon clipping, I devised a plan and headed out bright and early this morning with FishBoy5 in tow.
Savvy coupon shopping at Vons in Southern California requires excellent manufacturer coupons straight from the manufacturer or from the newspaper. They have a limit of one printable coupon of its kind for each order. They offer double coupons, but they also limit this to one coupon of its kind as well. This can be a total bummer if you're comparing to other states and stores that don't have these restrictions. However, if you know the rules, you can work within the system well. For example, I make sure that when there are good coupons in the newspaper, that I buy at least 3 copies on Sunday morning. (While there won't be any more inserts for the rest of the year, you can usually get a head's up on coupons at A Full Cup.)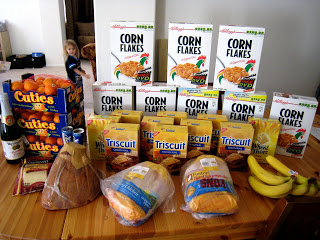 The items pictured cost $171.08 before sales and coupons. Afterward? $48.36! Even the checker was impressed with my savvy shopping. Here's the breakdown:
cornflakes (sale price, when you buy 4, $.99) FREE after coupons
martinelli's $1.99
Nabisco Crackers (sale price, when you buy 5, $1 each) FREE after rebate
Crescent rolls $2
Sargento cheese $2.99 – $1 coupon = $1.99
ham ($.77/lb) = $5.88
whole chickens ($.67/lb) = $4.50 and $3.88
bananas $1.94
Clementines $4.77 – $1 coupons = $3.77/box
Obviously, stocking up on loss leaders can really stretch those dollars! My kids are stoked about the clementines while I'm dancing a happy dance about all the crackers and cereal.
What's been your experience shopping at a Safeway store?