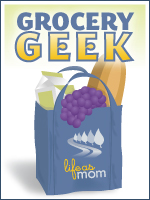 This has been "batten down the hatches" week. My book manuscript is back in my hot little hands and I've got about a week and a few days to make corrections and mail it back. I didn't know why I had put off the start of school until Sept 6, but apparently God did! The timing works out well — as long as we're prepared.
So, preparation has been the name of the game this week. Last week I mentioned how we did a big Costco stock-up. I also cruised through Walmart getting a few household items this week so that we don't run out next week when I need to be focused on other things. And since it had "almost been" two weeks since I went to Costco, I went again to make sure things were stocked.
Yes, I've exceeded the amount that I budget for groceries this month, but I've got the cash and am buying into next month. As one Facebook peep pointed out, I was under budget last month, so it all works out in the end. I'm quite at peace to take from our discretionary funds in order to make things easier on my family in the grocery department.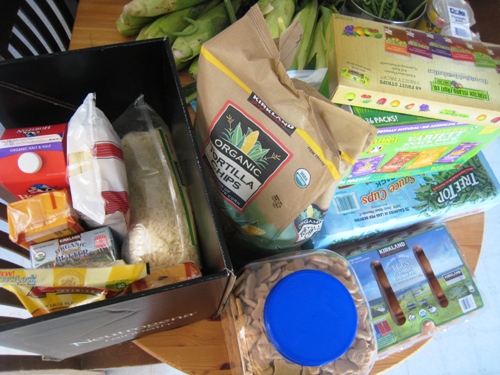 I bought a ton of stuff at Costco, including lots of meat and cheese so that I could get some meals in the freezer. All told it was about $200. Yes, really. BUT it "should" last a long time. I also bought some "convenient snack items."
I know, talking out both sides of my mouth. I want homemade and healthy; I want cheap; but I also have to buy myself some time. I also know that I will do this imperfectly. So, I'm trying not to overthink things and hopefully, will strike a happy balance.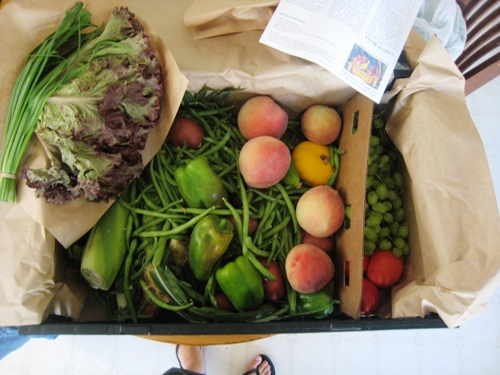 A new wrinkle in my grocery shopping was the arrival of our first box from Abundant Harvest Organics, an organic produce delivery service. A reader mentioned this company a couple weeks ago. I did some research and decided to give it a go. While the prices aren't as cheap as conventional produce on sale, they certainly are competitive with conventional non-sale prices as well as organic sale prices.
Everything unpacked and sorted:
Here's what we got this week: seasonal fruit (grapes and peaches), potatoes, chives, peppers, squash, corn, lettuce, green beans, cucumbers, tomatoes, and basil. I paid about $48 for this amount of organic produce, shipped directly from the growers which are all located in Southern California.
I processed a lot of the items that could be frozen (corn, green beans, potatoes) right away so that I didn't feel stressed to use it up. I'll be reviewing this service more indepthly over on Good Cheap Eats next week, in case you're interested.
So, this month I went about $250 over my budgeted $600. $850 to feed 8 people is not bad — and still dramatically lower than what the government allows for those on a "thrifty meal plan." As an interesting aside, I looked up the USDA food costs averages for the year and nearly choked! Our family's total came to over $1000 for a month. If I spent that, we could eat like kings — organic kings!
Makes me wonder a little about government spending, ahem. For now, I'll try to keep my own spending in check.
How are YOU geeking out on groceries this week?