Grocery Geek Presents: Albertsons is My Besty
We are a participant in the Amazon Services LLC Associates Program, an affiliate advertising program designed to provide a means for us to earn fees by linking to Amazon.com and affiliated sites. We participate in other affiliate programs as well. For more details, please see our disclosure policy.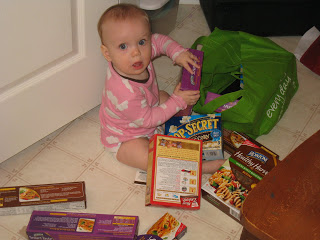 Grocery Geeks start early around here. This is FishBaby helping me unload the other night. I've gone a little crazy with the shopping and cooking ahead. But, according to Quicken, I've only spent $360 so far for the month. Often I find an error in my data entry, but here's hoping not. My freezers still hold about 33 meals, so the rest of my grocery budget can go toward milk, produce, and stockpiling. Good thing, too, 'cause Albertsons and I are becoming "besties." We go way back, you remember.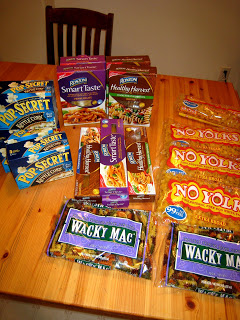 I got all that is in this photo for $4.40! After coupons and sales, the pastas ranged from $.20 – $.50 per package. The popcorn was $.20. I know that my fam may balk a little at the whole wheat pasta, but I'm hoping to sneak it past them by mixing it with the white pasta. We shall see.
Albertsons did play a trick on me a few weeks ago. The stock-up sale on flour was only for bleached flour. But, I'm hoping that they'll redeem themselves this week with this great Catalina deal. I have enough coupons to get 4 bags of flour for $.70 each! There are a ton of other items, like yogurt, cereal, and frozen veggies to add to my stockpile. Yeah!
Part of my weekend round-up includes stops at up to FIVE different stores (I know…) because great stock-upportunities abound. I'm hoping to work it into our regular weekend travels so that I'm not making a special trip anywhere. You'll be sure to hear more from this grocery geek in the next week!
Got a great deal this week? Share it with us!