As I mentioned awhile back, I'm participating in the All-You Grocery Challenge. Players are allowed $25/person/week to spend on food. As far as I can tell I'm not supposed to count the baby, so that leaves us an allowance of $175/week for us 7 "bigger" eaters. Obviously since my regular "grocery spending" comes in under $150, this shouldn't pose a problem.
However, we budget restaurant food differently than groceries. And I normally include diapers, paper products, and toiletries in my grocery costs. So, this past three weeks, I wasn't sure how the numbers would crunch. After raiding FishPapa's wallet for food receipts, this is what our totals look like:
Week One: $130.14
Week Two: $149.33
So far this week I've made these grocery stops:
At Albertsons, I bought what's pictured as well as olives and pasta, spent a total of $22.72 out of pocket, and still have $10 in catalina coupons to spend. I will probably head back there sometime this weekend, to take advantage of this great sale.
Then, I stocked up on bread, produce, and dairy at my local health food store. They have amazing prices if you only buy what's on sale. I spent $31.81 on all this.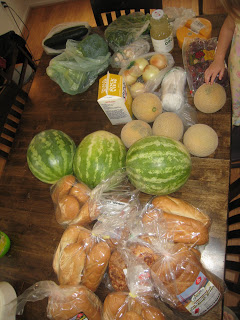 bakery clearance $.99-$1.49
buttermilk $1.99
colby $1.99/#
OG limeade $.50 after sale and coupon
OG broccoli $.69/#
cantaloupe $.25/ea
cilantro $.33/ea
jalapenos $.99/#
onions $.49/#
grapes $.99/#
watermelon $.99/ea
mushrooms $2.49/#
cukes $.49/ea
shrimp $2.99/#
After these grocery stops, some eating out, and an itty bitty trip to Costco, Week Three = $107.29 so far. That gives us some wiggle room for In-N-Out Burger this weekend if the craving strikes.
Are you playing in the grocery challenge? How's it going?