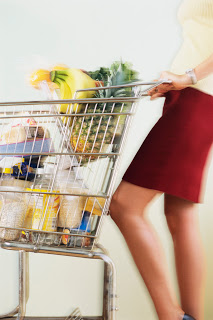 I feel like I am learning all over again the things that I learned back in February and March — how my local grocery stores operate. Last week was so successful at Albertsons and Sprouts, I am focusing on learning those places well and branching out to other places, such as Ralphs and the farmers' markets later. I've heard a few mentions of WinCo, so I may have to make a treck there at some point as well.
Despite the claims that life is more expensive in California, so far, I'm not finding that in my price matching — except in real estate. Grocery sale prices and loss leaders are comparable to what I found in the MidWest. Additionally, milk is WAY cheaper here, generally $2.50/gallon (when you buy 2) compared to the $3.33 I paid at SuperWalmart in KC. I don't know if it ever goes "on sale," but I'm happy with the regular everyday price. And Costco actually goes even lower.
My target goal is $100/wk to feed our family. Obviously, this last two weeks I've gone over. But, I figure my learning curve gives me a great excuse. Since I'm in the process of building my stockpile back up after moving.
Here's my week of deals:
Costco:
2 gallons milk – $4.49
butter $1.89/#
cheese $2.70/#
romaine lettuce 6 heads for $2.99
one large pepperoni pizza $9.95
Sprouts:
on-the-vine tomatoes .99/#
gala apples .99/#
pears .69/#
red and green bell peppers 3/$1
cantaloupe .99 eac
celery .89
freshly made tortillas 2.19/doz
freshly made tortilla chips 2.50/#
Muir Glen tomato sauce .99 – .75 coupon = .24
Muir Glen crushed tomatoes and chunky tomato sauce $2.00 – $1 coupon = $1/ 28 oz can
Cascadian farms jam $2 – $1 coupon = $1
Albertsons:
Pillsbury flaky twists $3.99 – free coupon
frozen juice $1.79
Pinto beans (2 lb. can) $1
Bertolli Oven Bake meals $6.99 each, Buy $20 get $5 off, Minus (3) $2 coupons = 3 packages for $10
Ronzoni Smart taste pasta 1.66 – $1 coupon = .66
Heinz ketchup $1.50/48 oz. bottle
Mt. Olive pickkles $1.50
Del Monte pineapple .75
light tuna .75
Ore Ida potato products $1.50/32 oz bag (I bought 13 bags!)
Michelina frozen dinners .75 – .20 coupon = .55 (Too bad I forgot that there's no microwave with this rental!)
Smuckers jam $1.50
Smuckers jelly .75
Johnsonville sausages $3.99 – $1 coupon = $2.99
London Broil 1.49/#
My total this week at Albertsons? $124.98, a mere 46 cents more than last week. Wierd.