For some reason, the grocery sales didn't excite me much this week. Could be I'm burned out. Could be that I have other things (chicken pox and moving, to name a few) on my mind. Regardless, I didn't rush out and do a happy dance over shopping this week.
(Yes, I normally do. That's why this ongoing series of posts is called, "Grocery Geek.")
But, that's okay. That's why we have a stockpile. So, I don't have to do a lot of shopping if I don't wanna. Amen and amen.
The kids and I made our weekly fresh produce and dairy stop mid-week. $40.02 bought me this: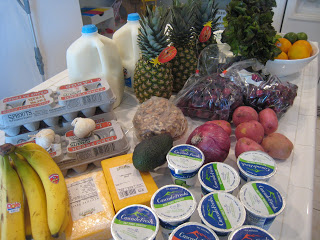 bananas 3#/$1
eggs $1.39
pineapple $1.50
limes 10/$1
red potatoes and red onions $0.49/#
lettuce $0.50 each
cherries $0.99/#
yogurt $0.50 ea
milk $1.99/gallon
cheese $1.99/#
avocados $1.25 ea
oranges $0.29/#
walnuts $3.99/#
Coupled with the stop at Costco I made earlier in the week, I spent a whopping $59 this week. Not bad. That brings us clearly under budget for the week.
Starting Monday I'll be participating in the All You Grocery Challenge. The goal is to spend less than $25/person/week for four weeks. The winner receives a $1,000 grocery card plus a year's supply of Knorr side dishes and the chance to appear in ALL YOU magazine. You have until tomorrow to sign up if you'd like to participate.
$25/person comes out to a $200 allowance/week. One would think I could do this no problem since our budget is already $150/wk. I don't have to count diapers into my total, just food. That would give me even more wiggle room. But, since we do eat out from time to time, that will shift my numbers. And you know when you can't spend, that's when you really want to. FishPapa is willingly on board, but I need to make sure I pack some good lunches for him so that he doesn't succomb to the siren song of In-N-Out Burger.
If anything, it'll be fun to see how creative we can be and to save money at the same time!