Can you say, overboard? Yeah, that's something I tend to do.
How about buyer's remorse? Yeah, that's been happening, too.
Now that we are out of debt, it's been a little harder to exercise self-control and to plan as well as I could/should. It's not like I have been spending more than we have. But, I haven't been as exacting as I was a year ago. One thing I was reminded of lately?
Always, always, always count the cost before you attempt a project! I bought candy to put on birthday cakes this week. I didn't weigh each gummy snake before I had the man bag them. Imagine my horror when I had accumulated $30 of gummy snakes, rock candy, and chocolate pebbles. They gave us some major discounts since we were buying so much. And I felt a little better that it was enough candy for all six kids' cakes. But goodness! Overboard? Buyer's remorse? Oh yeah.
Always, always, always count the cost before you attempt a project!
I feel like I've slipped off the wagon and need to get a better grip. Pray for me. I think I've got bruised knees from hanging on and getting dragged behind.
That said, I did nab some great deals this past week, saving money on things that we regularly use and buying ahead to stockpile so that we can enjoy cereal and cheese and crackers and free BBQ sauce in the coming months.
You saw the cereal, right? 30 boxes for about $15 ought to do us for quite some time.
Albertson's had another great sale this week with lots of Kraft products. Did you print those coupons yet? Do it quickly before they're gone.
Thankfully, I bought the following with only $9 out of pocket. I had purchased a gift card last month (Buy a $300 gift card and get an extra $30 loaded on it), so I used that. Good thing, too.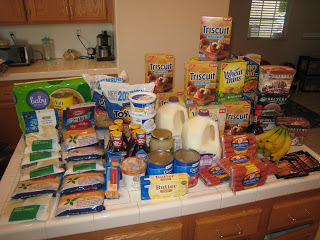 After sales and coupons, my prices were as follows:
cheese $0.75/7 oz.
butter $2.50/#
milk – bought the wrong milk! $3.69 & $2.49 each gallon (I guess it pays to write these posts, otherwise I wouldn't have ever known)
hot dogs $1.33
spice packets $0.16 (don't normally get this, but since they were so cheap, I bought the ones w/out weird ingredients and thought I would experiment)
Kraft BBQ sauce free
canned tomatoes $.99
sauerkraut$2.29
Tostitos $1.50
pinto beans $1
triscuits $0.66
wheat thins $0.66
artisan wheat thins $0.88
graham crackers $1.50
sour cream $1.50/16 oz
bananas $0.79/#
red wine vinegar $2
Breyers ice cream $2
Starbucks ice cream $1.50 (figured it would be a date night treat)
diapers $11.99/
My total was $77, but the receipt said that I saved $188 in sales and coupons. Yikes!