My grocery budget is getting very close to its end. I've had some great grocery store outings this month(see them here and here). But, it's easy to lose sight of mid-week purchases. I forgot about the few things that I had FishPapa get at Costco or the diapers that I got on sale at Walgreens or the load of Powerade we bought in the aftermath of the stomach flu. These were all items that were rock-bottom prices and will last us into next month. But they do bump us over our spending goal. We have more than enough to get us by, but some of these deals are really good.
So, whaddya do?
Well, I'm not going to go in debt to stockpile, even if it's a hot deal. But, we do have a little wiggle room in our budget. So, we moved some funds around and worked it out to have a little more padding in this month's grocery budget. I still want to lower my overall average, but I think we'll be doing it by baby steps. $400/month to feed eight and diaper two babies is probably an extreme dream. So, we're revisiting our budget and bumping the grocery allowance up to $500. I think this will allow me some wiggle room to add in more stockpiling at the same time as still lower our overall average. (Our 2007-precoupon average was $820/month. Our 2008-post coupon average was $620/month.)
Here are last weekend's finds: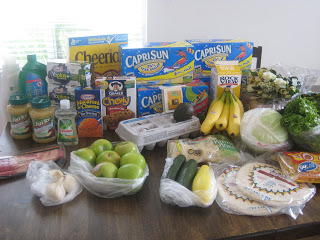 The items in this picture cost a total of $48, purchased at Vons and Sprouts.
Vons has become my new best friend in the month of March. Their coupons and sales have been fantastic! Sprouts is my go-to store for great produce and fantastic prices. Some highlights:
CapriSun $1.10/box – after sales and coupons
granola bars $0.99 – after sales and coupons
Mac and Cheese $0.49 – after sales and coupons
no yolks $0.25 – after sales and coupons
flowers – free after coupon
yo plus yogurts $1.25 – after sales and coupons
18 ct 3ggs $0.97 – after sales and coupons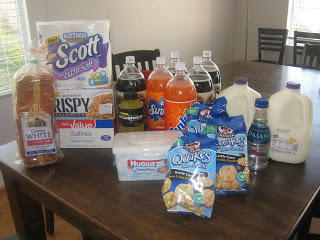 I know there's a bunch of junk in this picture. But, it was a bunch of almost free junk. I'm hoping we'll make the sodas into floats over the next few months.
Here's the lowdown on this shot: 6 bucks out of pocket, after coupons and redeemed catalinas.
rice cakes – free after coupon(s)
Huggies wipes – free plus overage after coupon
2 liter sodas – $0.25/bottle plus CRV (CA "deposit" fee)
powerade – $0.39
And this weekend's finds:

You know how much I love Bertolli sauces in the pouch. These were $0.50 a pouch!
diapers $3.99 after coupon
cereal $0.50
pasta $0.75
salad $0.75
lunch meats $1-$1.50
no yolks $0.25
I know it may seem weird to see pictures of groceries on a blog. However, reading posts like this was really helpful when I was first starting out with coupons. To see others' sales and savings, visit Money Saving Mom every Saturday.