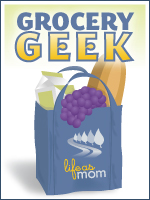 So last week I told you that I was going to try to squeak through two weeks without a big grocery trip. I didn't think I could do it. But, the flu hit a few of us midweek and so that made it really easy. Who wants to go out when your head is spinning and you feel a little nauseated? Yeah, good times.
Instead, I cleaned out our school room/office, another good time, and found all sorts of stray coupons and coupon inserts that needed to be clipped.
Be Prepared for Good Deals
If you missed my couponing adventures series, you'll probably want to go back and catch up. It's a detailed explanation of how I go about finding, sorting, and matching coupons to sales so that I can save money on groceries every month. Coupons are not necessarily for everyone, but they can help.
Used to be that I shopped everywhere each week with coupons clutched tightly in hand. I was highly motivated to get out of debt. And couponing helped us get through a rough time and without losing our shirts. I still rely on coupons to help us save a substantial amount of money each month.
I've found that as family life gets fuller, I don't have the time or the energy to make the rounds to all 8 stores that I might otherwise shop each week: CVS, Walgreens, Albertsons, Ralphs, Vons, Costco, Walmart, Target. I do end up at each of those stores at least once every six weeks, some more often than others depending on our family's needs and the store sales.
And if I've got my coupons ready and organized, then I can just go when the window of opportunity opens. More times than not, though, I leave my couponing to the last minute. Not super wise.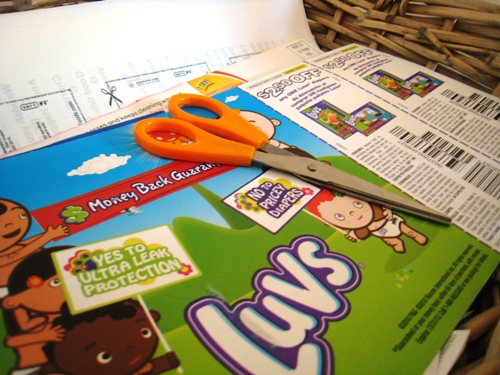 Catch up on coupons!
Here's what I do to catch up when my couponing habits have lagged.
Go through coupon file and pull the expired coupons. I've been sending mine to AnnMarie, a military mom living overseas. US military commissaries overseas accept expired coupons within a 6 month time frame, so this is a great way to help fellow moms who may not have weekly access to a US paper. I met AnnMarie here at LifeasMOM, but if you don't know a military family overseas, find one through Coupons for Troops.
Browse the selection of printable coupons at Coupons.com. I make a habit about once a week to scroll through what printable coupons are available and print those that I'm sure we'll use. In the past, I've printed everything that I would possibly dream of buying, especially if it was free or close to. As I healthify our diet, that number is shrinking a tad.
Tear inserts apart and collate "like" pages. Since I buy 2-3 papers on the weeks that I buy the paper, I don't want to cut the same coupon three times. I stack the pages, cut wide margins and hope for the best while cutting three at a time.
Clip and file as you go through your stack. I find that it is much easier to clip and file rather than my old method of clip, clip, clip, sort, sort, sort, and then file. This way interruptions don't mess up my progress. I just pick up where I left off.
How are coupons working out for you?