I love the idea of the Eat-from-the-Pantry Challenge. And I think that if push came to shove, I could have made it through without setting foot into a store before May 1.
However, I found that as the month progressed, it wasn't benefitting my family as it should. Once the freezer, frig, and cupboard started to show bare spots, it became more difficult to provide easy lunches and snacks for the kids. Meal prep became more time consuming, and these days I don't have a lot of time to spare. We had the money in the budget, so it was more a pride thing if I kept going at it.
Did I fail in that I bought bread on sale last week? Was I a big fat loser 'cause we went to Costco on April 28th instead of waiting for the calendar page to turn?
Not really. We did use up a lot of things in the freezer, and I have a better idea of what's left now. Plus, having a long break from shopping was so nice! I really enjoyed that.
It was good to let things go bare, especially as I found some more great deals this week. I did a lot of shopping this week, but I'm hoping that we'll get through several weeks without my having to shop again. Our calendar for May is getting very full, so I need to plan ahead.
(This is a long post because of all the shopping I did. But I hope the price breakdown will be helpful to you.)
Costco is my go-to spot for many things. Our grocery total for the following was $94.00.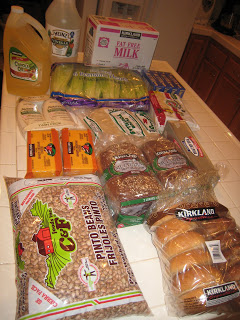 That included
romaine lettuce $0.50/head
butter $1.50/#
dried apricots $3.13/#
white vinegar $3.29/5 liters
canola oil $8.69
bagels $4.99/dozen
pinto beans $0.64/#
gourmet jam $5.89
cream cheese $1.83/#
string cheese $2.30/#
whole grain bread bread $1.98/loaf
large flour tortillas $1.63/dozen
cheddar cheese $2.45/#
milk $1.60/gallon
Then at Sprouts, I scored with the clearance bread again.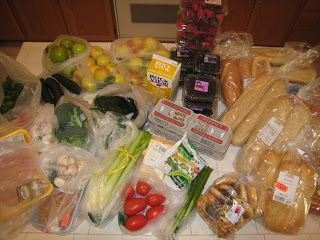 bagels, bread, rolls, and baguettes $.99/package
buttermilk $1.79
eggs $1.50
pepper jack cheese $2.99/#
colby jack cheese $1.99/#
organic frozen peas for baby food $1.49 after coupon
chicken breast $1.99/#
OG celery $1.69
OG apples $0.49/#
blackberries $0.69/6 oz package
broccoli crowns $0.50/#
cilantro $0.10/bunch
cucumbers $0.49/ea
garlic 3/$1
pasillas $0.99/#
romas $0.69
watermelon $2
serranos $0.99/#
strawberries $0.88/#
TOTAL = $65.43
Vons is a Safeway store for those of you in other locales. I think they are overprice on most things, but their sales are fantastic. Each month they send me these great coupons in the mail, many for free items and for $10/$50 purchase. Love that. This trip was only $37.06! Plus, I got back a catalina (store coupon) for $10 off my next purchase. So, this really only cost me $27.06. Yikes! I got tons of pasta, enough to last the month, most likely.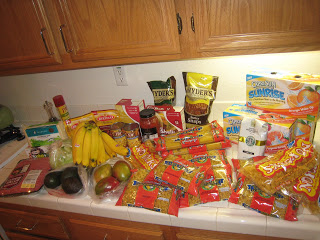 taco shells – free after coupon
Safeway pasta – free after coupon
Life cereal $.67 after coupon
bertolli sauce $.67 after coupon and catalina
Anthony pasta $.67 after catalina
No Yolks $.50 after coupon and catalina
garbanzo beans $.75 after catalina
pretzels 2/$1.25
Capri Sun breakfast drinks $1/10 pack after coupon and catalina
Starbucks $6/12 oz after catalina
jack cheese $1.50/# after coupon
yo plus $1 after coupon and catalina
ground beef $2.71/3+ pounds after coupon
bananas $0.50/#
mangoes 3/$1
avocados $0.77 each
iceberg lettuce $0.50 after coupon
CVS proved to be a great trip as we were out of laundry detergent. This was the cheapest I've ever seen it. I paid $3.71 out of pocket for all this.
Here's how:
Trail Mix Crunch 3 @ $2.50 = $7.50
Intuition razor $8.99
ALL small and mighty BOGO 2 @ $7.49 = 14.98
Garnier Fructis shampoo $2.99
SUBTOTAL $34.46
Minus 3 – $2 Trail Mix Crunch coupons
Minus 4 – $2 ALL coupons
Minus $4 Intuition coupon
Minus $1 Garnier coupon
TOTAL $15.46
Paid $4.99 and $7.98 in ECBs
Paid $3.71 cash
Got back $6 in ECBs, making the "cost" of this $9.46!
Lastly, I did hit the cereal sale at Target. We got 8 boxes of Special K and two boxes of Special K crackers for $.49/box after coupons and gift cards received. I also picked up Kashi waffles for $.49/box as well. Thanks to Money Saving Mom for the heads' up on those deals.
I'd say I'm in the clear when it comes to easy breakfasts, snacks, and lunches. Wouldn't you?