Grocery Geek Presents: Choosing Regular Shopping Stops
We are a participant in the Amazon Services LLC Associates Program, an affiliate advertising program designed to provide a means for us to earn fees by linking to Amazon.com and affiliated sites. We participate in other affiliate programs as well. For more details, please see our disclosure policy.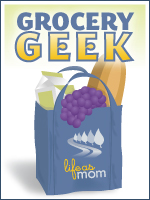 It used to be that I regularly visited a multitude of stores each week. In fact, Vons, Albertsons, Ralph's, Costco, Walmart, Sprouts, Henry's, Stater Brothers, Walgreens, and CVS were part of my weekly rotation. For several years this worked for us. I clipped coupons, stalked the sales, and then made my rounds, sometimes hitting all ten stores on a Saturday morning.
Yes, I know how to spend a weekend.
But, as the stores in Southern California have changed their sales and coupon policies, as we've changed our eating habits, and as I've realized that there are more good things that I have to say no to, my list of stores in dwindling.
In a month, I might visit this list of stores:
Vons
Albertsons
Costco – for bulk items like bread, dairy, some produce, meat, and some dry goods
Walmart – for toiletries and basics that Costco might not sell
Sprouts – for produce that isn't in our co-op box and meat on sale
Henry's
Stater Brothers
Walgreens
CVS – for prescriptions
Trader Joe's – for "healthier" items that I can't get at the above stores
Ralphs – for any specialty item that they above don't carry.
It still seems like a lot. But, 6 stores down from 10 is an improvement! Where I might have gone to every store every week previously, now I go to each store once or twice a month. I hope this means I'm making better use of my time.
Lately, I'm trying to simplify as much as possible without sacrificing too much in terms of budget or quality. That's a weight chore right there!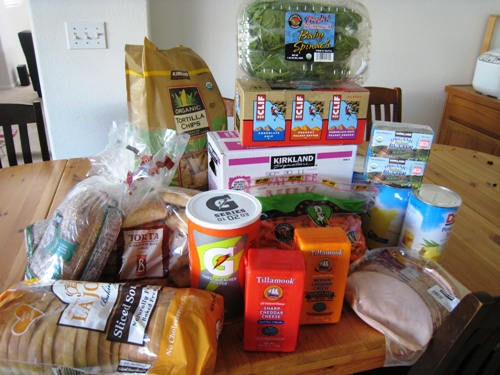 On Sunday, I braved Costco. Yes, yes, I did. I went during the Chargers game and that helped. On my list? The basics: juice, bread, milk, cheese, butter, carrots, spinach, chips, and turkey meat. I also included protein bars and Gatorade for the men in the family. (We've entered hockey season, and those are "necessities.") That was $99.01 exactly.
On Wednesday, I picked up our produce box.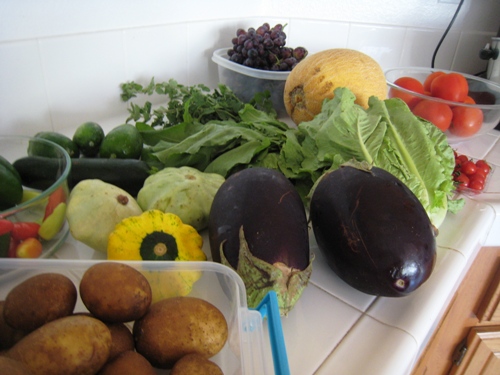 The fruit wasn't as plentiful as it's been in previous weeks, but apples are coming next week. Yeah! I experimented with sorrel this week. Sounds like something horses eat, but it was delicious with grilled fish and spinach. The produce box was $38.80. So, my grocery total is up to $137.80 for the week. Just about right. So far, so good on fitting more organics in our budget.
I haven't bought meat in several weeks. We've still got several packages in the freezer. But we're eating lots of fresh veggies!
How's YOUR grocery shopping going?