Grocery Geek Presents: Clean Out Your Coupon Box
We are a participant in the Amazon Services LLC Associates Program, an affiliate advertising program designed to provide a means for us to earn fees by linking to Amazon.com and affiliated sites. We participate in other affiliate programs as well. For more details, please see our disclosure policy.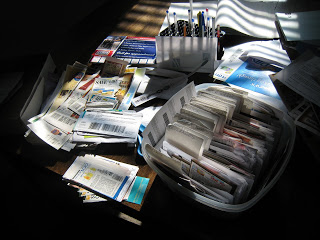 Since there aren't a whole lot of new coupons being released these last few weeks of the year, now is a perfect time to clean out and organize your coupon collection. In fact, many coupons will be expiring on the 31st so use them or lose them.
Last week, I pulled those out, focusing on the high dollar or FREE ITEM coupons, and compared prices on those items while shopping last week. I found several products that were on a great, unadvertised special which I could match with my coupons. I also redeemed my coupons for free items.
You may think that couponing is not for you. After all, many coupons are for convenience items and junk food. Too true. But, savvy couponing, matching your coupons to sale items, can be a very lucrative way to add a little more fat to your budget. See how I saved over $120 this way.
Do you coupon? If not, will it be one of your New Year's Resolutions? Why or why not?