Grocery Geek Presents: Convenience Buys & a Costco Stock-up
We are a participant in the Amazon Services LLC Associates Program, an affiliate advertising program designed to provide a means for us to earn fees by linking to Amazon.com and affiliated sites. We participate in other affiliate programs as well. For more details, please see our disclosure policy.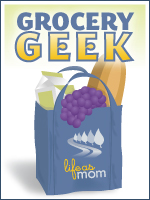 This past week I've made a concerted effort to get a handle on feeding my family "nutritious and delicious" foods that are also easy to get on the table.
As I mentioned last week, we've shied away from a lot of the processed foods that were regular staples in our pantry a few years ago. I explained that we're at a crossroads of sorts trying to up the nutrition, feed hungry boys, and stay in the black.
On Sunday afternoon, I spent a couple hours prepping foods for the week — and it was such a help throughout our days to be able to grab a box of veggies or cheese slices straight from the fridge. (I'll share more on this tomorrow.)
But, in addition to making my own convenience foods, I marched forth bravely and bought a few storebought things as well. A girl's gotta do what a girl's gotta do.
I spent about $70 at Trader Joe's on dairy, pantry staples, snacks, and some convenience items like potstickers and hummus.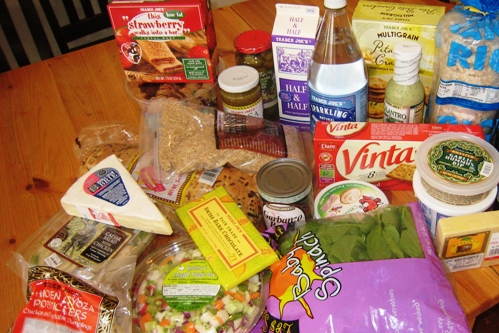 Then a trip to Costco after a long and tiring doctor's appointment turned into a big stock-up venture. Hubs met me there, and we had a mini-date at the warehouse tossing into the cart cheeses, milk, crackers, dried fruit, bananas, potatoes, breads, bagels, ground beef, steaks, fancy cheeses, juices, honey, vinegar, sea salt, and a few convenience items, like  pita chips and mashed potatoes. Yes, really.
We had a "good time" and ended up spending $300 at Costco. Yes, really. However, the items that we bought will carry over into next month, I'm pretty sure. But, I've spent my grocery money for the month — and there are still 10 days to go. I may go a little over budget if we need milk or fruit before the end of the month. Thankfully, we have the cash, so we'll just spend less on something else.
In the meantime, my kids have plenty of things to snack on and I've got lots of items to work with. Seeing as my manuscript is coming back to me at the end of next week, I'm going to need all the convenience I can get!
Have I been irresponsible? Have I blown our money? Have I caved?
I don't think so. A glance at the grocery ads in San Diego county show me that I'm not missing much. I've bought good quality food and plenty of it. I've splurged on convenience, but (hopefully) without sacrificing taste or nutrition.
Where  do YOU splurge?