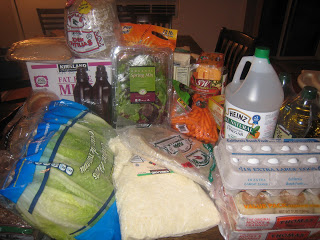 Knowing that we'd be gone all weekend and that I wouldn't have time for bigtime shopping, I made a trip to Costco to stock up on some basics. Costco has great deals, if you stick to the basics:
romaine lettuce $2.79/6 heads
organic spring mix $3.79/large tub
baby carrots $4.49/5#
olive oil $18.99/2 large bottles
ginormous can of tomato sauce $2.25
ginormous can of crushed tomatoes $2.69
chocolate syrup $5.99/2 giant bottles
hummus $4.99
18 eggs $1.85
milk $1.57/gallon
cheddar cheese $2.32/#
mozzarella cheese $8.59/5#
turkey breast $3.99/#
vinegar $3.29
baking soda $5.59
bagels $4.99/dozen
flour tortillas $3.25/30 ct
corn tortillas $3.59/6 dozen
english muffins $6.49/4 boxes
bread $2/loaf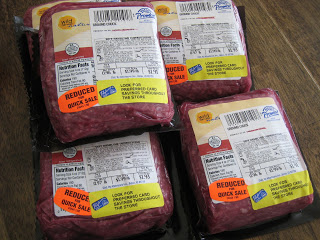 While Costco has great deals on most things, it doesn't usually have the best price on meat. This week I found all natural, hormone- and antibiotic-free ground chuck at Albertsons for $1.99/#. It was marked down because it was near the sell-by date. I just threw it in the freezer for future meals. I got superb quality for my regular target price.
Did you score any good deals this week?