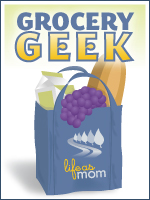 This week I have been overwhelmed by the tasks on my plate. They are all worthy tasks that leave not a lot of "extra time." In that vein, I've had to simplify my shopping practices.
I spent very few coupons — like none. This means I didn't spend time cutting coupons, tracking deals, or matching prices. That bought me at least an hour.
I made two grocery stops and hubs made one. That may seem like a lot to most people. But, I like to get out of the house.
We got some good food for good prices.
Costco
Costco is often a weekly stop on my rounds. Their prices on dairy, breads, and some pantry staples can't be beat during most weeks. Last weekend I picked up milk, cheese, bagels, tortillas, bread, beans, turkey, and ground beef.
I came home and did a marathon batch of frozen burritos. Love having those in the freezer for quick meals and snacks. I made 40, but I don't think they'll last very long.

CSA
On Wednesday, FishPapa picked up our second week's share of the CSA we joined on trial. I am not sure I ever saw a head of lettuce so big! We received oranges, grape tomatoes, melons, avocados, dill, lettuce, eggplant, edamame, yellow squash, and bunching onions. They were missing our apples, so we'll get those next week.
The quality is proving to be really good, except for a few tomatoes that were past their prime. But, seeing as I had traded swiss chard for the tomatoes, I can't really blame them. Tomatoes were not supposed to be in the box this week.

Sprouts
The kids and I ran errands one morning (ortho, post office, library) and, as Providence would have it, we got out the door early enough to score some deals at Sprouts' bakery clearance rack. It's so exciting when the shelf hasn't already been cleared.
I filled out our fruits and veggies supply with strawberries $(1.25), grapes ($0.99/lb) and cukes and peppers (0.50 each) as well as  picked up a few meats on sale. Chicken tenders and pork loin roast were both $1.99/pound and bratwurst was $2.99. I put those in marinades and dry rubs immediately and stashed them in the fridge.
So far this month, I think I've spent about $300 on groceries. That includes a lot of stocking up. I still have my co-op order to pay for and some more milk and a little produce, but I think we can easily fit under our $600 budget for the month.
How do you cope on crazy weeks?
No shopping? Some shopping? Little shopping?