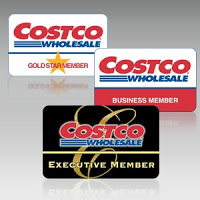 I just love Costco. Sigh.
I told you, didn't I, that when I was pregnant with the first FishKid my hubby and I would drive 45 minutes just to eat dinner there. Wow! What I will do for a cheap, hotdog dinner!
It's working really well for our family to make a Costco run about twice a month. We feast on samples, grab a pizza for dinner, and load up on butter, milk, cheese, lettuce, bagels, and a few other good deals. We went on Monday night and thoroughly enjoyed ourselves. It was a great switch from last week when I did lots of running around to at least three stores. I groaned at the end of my errands, pining for the day when I can do all my shopping in one place.
Since I came up with my Time-Money-Comfort theory, FishPapa and I are putting our mathematical brains together to devise some kind of numbering system. We want to quantify how good a deal is and have a system to measure the merit of the experience.
Yeah, we're geeks. But, humor me.
In our system, for instance, Costco gets
— a 10 for being a Timesaver: easy to prepare items; wide breadth of items, virtually a one-stop shopping place.
— a 10 for appealing to our Comforts: healthy, tasty meals
— yet, it ranks a 5 on the Money scale: there are great deals to be had, but not on everything. It's a mixed bag when it comes to bargains. I don't think I could shop exclusively Costco and stay under $500/month.
But, Costco Corporation, if you want to comp me the gift cards, I'm up for the challenge!
This week we added the following to our stores: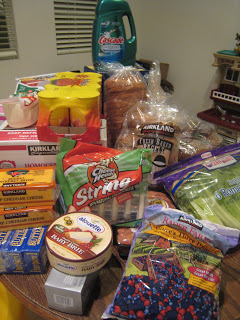 3 pounds frozen berries $10.99
4 pounds Italian sausage $8.79
6 pounds pasta $7.89
6 heads Romaine lettuce $2.99
8 cans pinto beans $4.39
1 ginormous bottle of Cascade $7.99
2 gallons whole milk $4.89
2 gallons nonfat milk $3.69
3 pounds cream cheese $6.59
4 pounds cheddar $10.58
3 pounds string cheese $8.99
2 pounds mozzarella $4.99
4 pounds butter $5.99
2 dozen Einstein bagels $9.98
2 loaves whole grain bread $3.99
6 petit pains (French bread loaves) $4.49
1 large 2 lb. sourdough bread $2.39
1 large round Brie cheese $5.29
9 pounds rolled oats $6.59
28 ounces baking powder $3.19
2 pounds roasted, sliced turkey meat $7.70
3 pack saltines $4.69
5 pack fancy crackers $7.69
We also threw in $20 on two pizzas – they were great!
And we also dropped $40 on 2 boogie boards because, now don't cry, you people where it's cold, we spent all Saturday at the beach! It was fantastic. The beach and Costco, what more could I want? But, I digress….
Overall, it's been a positive shopping experience for our family. And maybe I will embark on the Costco Challenge with or without that email from Costco's Corporate Office.
PS – FishPapa made a stop at Sprouts and stocked us up on fresh produce:
oranges $.25/lb
grapefruit $.25 ea
apples $.69/lb
avocados $.69 ea
honeydew $1.25
spaghetti squash $.69/lb