Since I decided to avoid the grocery store for the remainder of the month, this week I made a concerted effort "to CVS." I haven't done much of it since we have such a nice stockpile. However, since there were some freebies and I wasn't going to do any other shopping, I figured now was an opportune time.
If you read my CVS primer for this past week, you'll know that there were some great deals on body wash and dental products. So I included those in my purchases along with other items that I saw were good deals. I was pleasantly surprised when I found some great coupons to go with everything I bought.
I went in with $10 in ECBs and a few coupons and came out with $13.97 in ECBs and all this!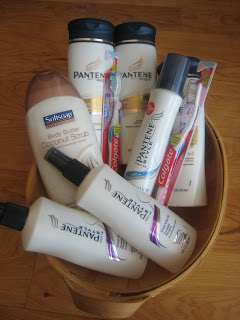 Here's what I did:
Transaction #1
1 Softsoap body wash $4.99
3 Pantene shampoos and conditioners @ 3.50 each
3 Pantene styling products @$3.50 each
Total 25.99
Minus 4/20 coupon that I rec'd via email
Minus 3 "FREE Pantene styler when you buy shampoo or conditioner" coupons (-$10.50)
Minus $1 Softsoap coupon
Total $10.49
Paid with my $10 ECBs
Paid $0.49 + tax
Rec'd back ECBs for $6 and $4.99, making $0.50 on the transaction
Transaction #2
2 toothbrushes @ $3.99 = $7.98
Minus $.75 Colgate coupon
Minus $.75 Colgate coupon
Total due $6.48
Paid $6 ECB from above
Paid $0.48 + tax
Rec'd back ECB for $7.98, making $1.98 on the exchange
Are you sure you don't want to learn "to CVS?" Come back later today for my primer for next week's sales.