Do we know how to live it up or what? Tonight for date night we drove by a possible rental, ate at In-N-Out Burger and went shopping at a new store that had fantastic prices. It's been a wild week for a number of reasons, so it was nice to spend time with my honey and be able to cross something off my list (grocery shopping) as well.
$35 and some change bought us all this!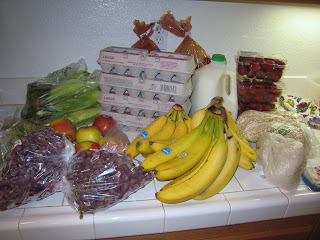 The prices were amazing:
bananas 4#/$1
grapes $.88/#
5 # bag potatoes $.97 each
apples $.97/#
corn 4/$1
strawberries $.88/#
rice $.59/#
oats $.79/#
eggs $.99/dozen
The milk was not a great deal, but we were completely out and it wasn't worth another stop.
This weekend, however, I'll be stocking up on tri-tip at Ralphs. It has been oft requested all summer, but never on sale. I kept saying, "Wait for Labor Day." Lo and behold – one of the grocery stores came through for me and I'll be getting it at my target meat price, $1.99/#. Ralphs is also tripling coupons this week, so I'll take advantage of using some lower value coupons at the same time.
Did you nab any great grocery deals this week?