Grocery Geek Presents: Double Ad Days
We are a participant in the Amazon Services LLC Associates Program, an affiliate advertising program designed to provide a means for us to earn fees by linking to Amazon.com and affiliated sites. We participate in other affiliate programs as well. For more details, please see our disclosure policy.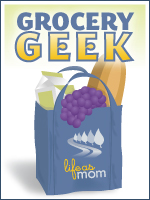 This week I decided to try an experiment. But before I tell you about my experiment, here's some background.
I love my local health food stores.
You see my local health food stores have tremendous sales on fresh produce. It's rare that I buy any fruits and veggies at the standard grocery store, because Sprouts and Henry's have them beat. Hands down.
Not only do they have great produce sales, but they also feature great deals on bulk items like nuts, oats, and rice as well as meats and dairy products. Sprouts also has markdown breads that are a great deal. If I stay away from their processed foods, I can get a cartload of groceries for very little money.
I don't often need to use coupons at these stores, so it makes for very easy shopping. Which is why I took the four youngest children shopping with me this week. And, no, I'm not bald. Yet.
One of the unique features about these health food stores is that they feature double ad days. In my area most grocery store ads start on Wednesday and end on Tuesday night. But, with double ad days, the two sales weeks overlap. This means that I could conceivably hit two sales cycles on one day and stretch my visits to these stores to once every two weeks.
Not only am I saving money by shopping at these stores, but I could save time if I only visit them once every two weeks.
You see where my experiment is going, right?
I bought enough produce (I think) to last us two weeks. I'm not sure. We'll see. Is this enough?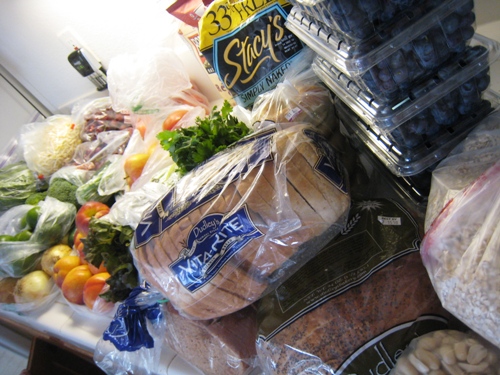 And yes, I did buy some chips. I had coupons. 😉 Here's what I bought:
clearance bagels – $0.99
3 clearance breads – $1.50 ea
quick oats – $0.59/lb
rolled oats – $0.59/lb
peanuts – $1.71/lb
brown rice – $0.74/lb
potato chips – $1/bag after sale and coupon
pita chips – $1.25/bag after sale and coupon
OG chicken base – $5.89
lg jar tahini – $5.29
extra lean ground beef – $1.99/lb
bean sprouts – $0.99/lb
blueberries – $1.88/18 oz
broccoli crowns – $0.77/lb
cilantro – $0.33/bunch
tomatoes – $0.77/lb
cucumbers – $0.49 ea
garlic – $0.49 ea
limes – 10/$1.00
onions – $0.77/lb
nectarines – $0.77/lb
green onions – $0.49 ea
red leaf lettuce – $0.49 ea
romaine lettuce – $0.99 ea
grapes – $0.97/lb
gala apples – $0.77/lb

I spent a total of $68.91 this week.
I will swing by Costco for the dairy products we need, but the freezer is full, so we're good to go. I'll keep you posted on my experiment.
How do you manage your time with grocery shopping?