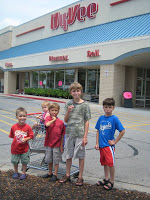 Everything is relative when it comes to economics. For instance, when gasoline has been up to $4.16/gallon here on the Kansas side, FishPapa's recent sighting of $3.86 in Missouri sounded cheap! (C'mon people, it was two bucks two years ago! Hello!)
The grocery store sales have been so bad lately, it makes CVS' mediocre deals look fantastic. And, letting my kids suck on the free lollipops from Hy-Vee makes the risk of cavities and hyperactivity seem small in comparison to a happy trip through the store.
The sales in the KC Metro area have been very quiet these days. After seeing these stockpile photos (insert shocked emoticon here), I was a little dismayed to realize that my cupboard is almost bare. Granted, my freezer is filled to the brim, but we are slowly running out of cereal, snacks, crackers, and canned items. I've become quite accustomed to have a few boxes of everything in reserve. It's been a dream come true — thanks to coupons.
I'm not sure if there are simply high, high prices everywhere, or if we are just in a lull at the moment. I anticipate some deals coming my way near Labor Day which means I will be a wild, postpartum woman healing from birthing a 10 pounder as I peruse my local grocer's. That will be a fun time, I can tell. Maybe I'll have to recruit MoneySavingMom to go with me, eh?
But, as I've said before, thank the Lord for CVS. Not only do I have the opportunity to stock up on items that we need for very low prices, I also get a little thrill over capturing a deal. And as you will see, this was diaper week at CVS and Walgreens. My girlies' closets are going to be filled with diapers. Can't wait to get those clean and organized so that I, too, will have a stockpile photo of my own to brag about.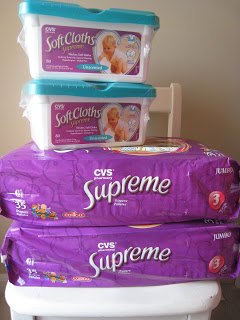 Trip #1:
2 packages CVS wipes = $4
2 packages CVS diapers = $12
Subtotal = $16
Minus $3/15 coupon
Paid, $13 + tax, received back $5 ECB, resulting in a cost of $8 for all the items, less than I would spend for one package of diapers at full pop.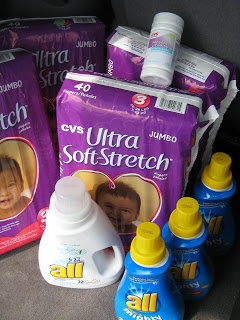 Trip #2:
I wasn't planning another trip, but CVS very kindly sent me a $5/$30 coupon via email. How could I resist? And then, to see diapers on clearance? (Normally $8.99, now $2.25) Oh happy day!
4 bottles ALL (Buy 1 get 1 free) = 12.38
CVS prenatal vitamins = 9.99
4 packages CVS diapers, on clearance for $2.25 a package = 9.00
Subtotal = 31.37
Minus $5/$30
Minus $3.50 ALL coupons
Total due $22.87
To CVS regulars I'm sure that seems like a lot to shell out at CVS. But, I didn't see a cheaper way to get the vitamins, I had to do that. So, $12.88 for four bottles of laundry detergent and 4 packages of diapers seems like a steal to me.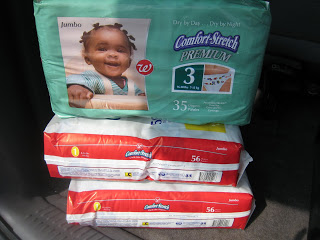 Walgreens:
3 packages diapers @ $5.99 ea = 17.97
Minus Easy saver coupons $7.50
Total due $10.47
Minus Register Rewards for $5
Total cost for 3 packages diapers = $5.47