It used to be that breakfast cereal was a rare commodity at the FishFam Table. Except for a brief obsession with organic cereal (which was not wise for my budget at the time), I limited it to a couple boxes of generic chex or cheerios, at about $1.50 – $2 a box. However, since I started my new frugal ways, I've instituted the Fifty Cents or Free Rule. I don't pay more than $.50 per box — if I pay anything at all. My husband raised his eyebrow when I sighed a few weeks ago that there was nothing under a buck. He couldn't believe that I wanted a lower price. But, it's true – it can be done.
This week was proof positive. I purchased four boxes of Kellogg's Smart Start at Walgreens.
4 @ $2.50 = $10
Minus (2) $3 off 2 boxes
Minus $2 Register Rewards received
Total cost for four boxes = $2! (making them $.50 each)
Later in my grocery shopping, I redeemed a coupon for a free box of Kashi Vive! cereal. Both of these brands are good quality, name brand cereals that meet Grocery Geek standards. If you're patient, the deals will come.
In other news, I did go a tad over my $100 allowance…. sheepish shrug of shoulders. I guess Phase 1B of my OAMC project will be postponed until next week.
But, seeing as we will have a house guest this week (my DAD!) I hope you'll forgive me for falling off the wagon. Just kick me in the rear next week if I don't behave. Regardless, I got some great deals: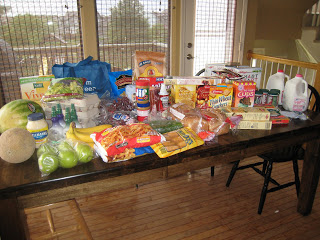 some of the highlights:
rump roast $1.99/lb (I bought two, so one will be used later in the month.)
Dole salad $1 to $1.66
zucchini and summer squash $1
cream cheese $1
Promise activa smoothies marked down to $1.99 minus $1 coupon = $.99/4 pk (The exp date wasn't until Sept, but they are discontinuing this item. Keep your eyes open for very fresh mark downs!)
Jif peanut butter $1.77 minus $.50 coupon = $1.27
sugar $1.28/4#
cucumbers 2/$1
Old Orchard frozen juices .97 – .25 coupon = .72 ea
cheese $1.67/8oz
frozen potatoes $1.49/32 oz.
Jello singles $1.50-$1 coupon = $.50
eggs $1.68/18 pk
Hellman's mayo $2.50 – .60 coupon
Ken's lite dressing spritzers marked down to $.50 each – $1 coupon = free + overage!
Total spent this week $118.17
Running total for June $348.72
Phase 1B is definitely in order for next week!