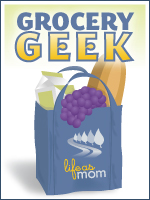 This week was rainy and busy, thus preventing me from eagerly setting forth on multiple grocery shopping expeditions. Eh, the sales were pretty lean anyway. And hubs was willing to shop for me.
And shop, he did.
My husband gets a prize for his cheerfulness in making multiple stops on the way home from work. Love that man!
Costco – milk, butter, cream, bagels, and jalapeno-stuffed olives. I don't recall putting the olives on the list, but it was a small price to pay for a happy husband and dry feet. (sorry, no pics)
Farmer's Market – This was our final pick-up week for our CSA trial. I received an email the day before pick-up detailing what was in the box. I, in turn, let FishPapa know he was free to trade the eggplant and chard for whatever he wanted. He chose zucchini and summer squash. Yes, I'm stunned as well.
In our box there was also huge heads of lettuce, butternut squash, cilantro, apples, limes, pumpkin, green onion, celery, and monster-sized avocados.
Sprouts – There were some other great produce deals which I could resist: cukes and bell peppers ($0.49), broccoli ($0.88), grapefruit ($0.19 ea), onions ($0.15/lb).
To be honest, I don't quite know what our total is for the month so far, but if I were to guess, I would put it around $500 – $550. Our freezer is packed to the gills, and, as you can see, we have produce to last us awhile.
Coupons are kind of falling by the wayside, but I think we'll be okay. We're eating lots of whole foods, so I think the quality of what we're eating is good.
How are you saving money on groceries this week?