Grocery Geek Presents: Finances, Illness, and A Few Good Deal
We are a participant in the Amazon Services LLC Associates Program, an affiliate advertising program designed to provide a means for us to earn fees by linking to Amazon.com and affiliated sites. We participate in other affiliate programs as well. For more details, please see our disclosure policy.
Looking At Finances
I mentioned earlier that it's good to take a financial snapshot to know where you are in relationship to your goals. This past week I balanced checking accounts and ran reports on Quicken. To be honest, I was a little nervous, but as it turns out we did okay. We spent less than $600 this month on groceries which is a first. That low number helped offset other high months and so our average so far this year is about $610/month to feed eight, now nine, people, diaper two, now just one, kiddos, and keep us supplied in toilet paper, kleenex, and whatever else I might dig up at CVS.
While I would like to get our monthly grocery expense even lower, I think holding to $600 is probably a good goal, considering we now have three adults in the house, with my brother living with us, and the FishBoys are, well, growing like weeds, as they say. We are currently going through 4-5 gallons of milk per week. Thank goodness it's only a buck fifty-five per gallon at Costco.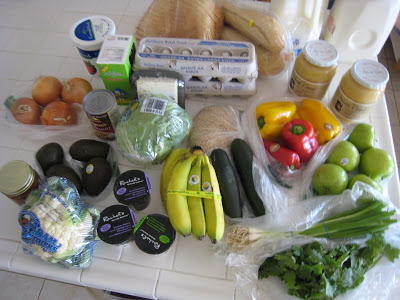 Preparing for Illness – Things to Stock Up On
This past week the stomach flu hit various members of our household. I found myself preparing bland meals, like plain noodles and rice, so that everyone could eat something once they were past their "puke-fest." How thankful was I that I had stocked up on chicken noodle soup earlier in the summer. It was a nice reprieve from cooking when I'd been cleaning up someone's prior meal. In my shopping, I avoided good sale items, like grapefruit, until their tummies could handle it. Instead I stuck with yogurt, bread, bananas, applesauce, and apples.
You might want to think about the comfort foods and flu treatments that your family uses and now keep your eyes open for sales. Items to consider:
chicken noodle soup
applesauce
Emergen-C
electrolyte beverages, like Pedialyte, Gatorade, or Alacer's ElectroMix
tylenol and advil
kleenex
saltines
cold medicines
A Few Good Deals
Lastly, a glimpse at what I snagged this week. My friend Jessika and I left our 8 children (EIGHT!) home with FishPapa while we cruised CVS by ourselves. (Isn't he great?) We strolled the aisles and found all sorts of clearance and sale items to match to coupons.
Rice Krispies and Corn Flakes $.77
Aveeno 3 containers for $12
Instant breakfast $1.50
Skittles – free
Advil $2.50/100 ct box
CVS Ibuprofen – free
Energy shot $1.20/2 pk
Crest concentrated polish $.45
How did you do in your grocery shopping this week? Get any great deals?