Grocery Geek Presents: Find a Coupon Buddy
We are a participant in the Amazon Services LLC Associates Program, an affiliate advertising program designed to provide a means for us to earn fees by linking to Amazon.com and affiliated sites. We participate in other affiliate programs as well. For more details, please see our disclosure policy.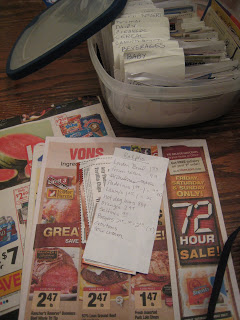 I admit, it can be cumbersome to go (bargain) hunting alone. Not to mention, well, lonely. When I first started clipping coupons and shopping the sales, I didn't really know anyone who did it. I remember having heard an acquaintance scorn the idea of "cherry picking." (That is, just shopping for the best deals at each store.) I was kind of a goober in my social circle to be looking for the lowest prices. But, I wanted to save my family money and I knew that adjusting our grocery expenses was one tangible way that I could do that. So, I forged on alone.
After a few months, I was blessed to meet my friend Crystal. Not only was she a pro at saving money, but she was a great comrade in arms. It was great to swap deals and special finds. I recall more than one occasion standing in a grocery aisle, talking to her on my cell phone, to share a clearance item or ask for her opinion on a certain price or special. It was mutually beneficial to our pocket books, but it was also just plain ol' encouraging. I wasn't alone in this quest to save my family's food budget. Since then, we've both moved, and I've relied on the internet and emails and phone calls with friends in other locales to find common deals.
But there's just something about having a coupon buddy in your own town.
This week I felt that enthusiasm once again as a friend who lives locally shared her shoplisting with me. Yeah! It was extremely helpful as I no longer receive the grocery ads in the mail at our new house. As uber-valuable as the sale information was, what helped me most was that I had a "partner in crime couponing." Her enthusiam was infectious and we "grocery geeked" together, talking about the different specials and who was buying what. I'm thankful that we both have very tolerant and humoring husbands, too.
Edited to add: Thanks to my good buddy's head's up, I was able to snag all that's in this photo for $83. Much of that includes items that we just "needed," like marshmellows and hominy. But, she pointed out to me that one of my "necessities of life" that I mentioned last week (pepperoni) was on fantastic sale – $1.75/puff pack. I stocked up and now have 4 months' worth of pizza night pepperoni to go into the freezer. I may have to go back….
But, here are some highlight prices, after sales and coupons:
$.70 – sour cream, softsoap, popcorn, cake mixes
$1.40 or less – chocolate chips, grated cheese
$.39 – yogurt
$1.75 or less – pepperoni, root beer, cranberry juice, sugar, pretzels
Having a coupon buddy helps me save money at the store. What helps you?