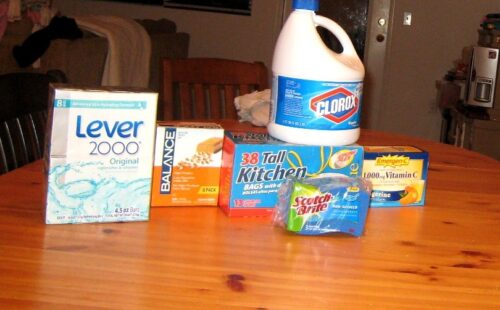 I had to laugh — and take a picture — when FishPapa came home from Walmart the other night and started to stage a picture of his purchases. The poor man has put up with my wild antics, including a host of grocery pictures, for quite some time. I didn't mind his teasing me.
This post marks the end of our third week of eating from the pantry. I was thankful for the abysmal sales at the grocery store as they weren't there to tempt me to shop beyond our budget. The household "necessities" you see in the picture include things like bar soap, trash bags, and bleach. These items have come out of our grocery money because it's simpler, but FishPapa suggested that we should budget for these items separately. Later in the week we also picked up some fresh broccoli, avocados, milk, bananas and a few other miscellaneous items to round out what we already have.
We ended up spending $45 this week bringing our three week total to $219 and some change. Since our family's "eat from the pantry challenge" was $400, I think we're gonna do okay, even with a birthday at the end of the month.
** Don't forget to pop back here on Monday to link up your Pantry Challenge Update.