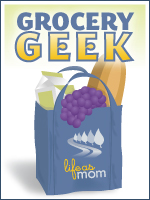 I haven't done a ton of "deal shopping" over the last month or two. In fact, very few coupons have crossed my palms. Life has been busy and "regular" sales have been good enough. Since we've moved away from a lot of processed, packaged goods, the coupon thing just hasn't really made as much cents as when we ate differently.
That, coupled with bulk shopping for freezer cooking has really reduced my deal scouting over the last few months. And we're still averaging $600/month for groceries this year.
However, this week, I went to Ralphs not once, not twice, but THREE times. Yes, yes I did.
I surprise even myself. But, yes. Ralphs, our local Kroger affiliate, had one of those Mix and Match, Buy 10 items get $5 off sales. And it was sweet for some very favorite items. Namely — Peet's Coffee.

We have a few Peet's stores in the San Diego area, but each is a little off the beaten path for our family. But, since it's FishPapa's and my very favorite coffee, not only do we splurge, but we also make a drive to splurge. What can I say? We're coffee geeks. But, Peet's recently had to raise their prices, and I almost cried. Almost.
This week, Ralphs had the 12 ounce packages on sale for $7.99 in the Mix and Match sale. I did some quick math and found out that this was about 33% less than what the Peet's store sells it for. And when I went to Ralphs, I found that they had my very favorite in the whole wide world, Uzuri African Blend. So, that closed the deal.
(No, the grocery store grind isn't as fresh as what I'd get at Peet's, but I'm willing to overlook that for a few bucks.)
They also had boxes of hot cocoa mix for $0.49 a box, compared to $2-3 that they normally charge. I don't normally buy hot cocoa mix, I make my own. But for such a low price and the holidays and cold weather approaching, it all made sense to me.
It made sense in a beautiful-I-can-drink-my-favorite-coffee-with-lots-of-cream-and-sugar-for-the-next-three-months kind of way.
I bought 9 packages of coffee, 16 boxes of hot cocoa, and 7 other items to make it an even 30 items, or 3 (1o item transactions).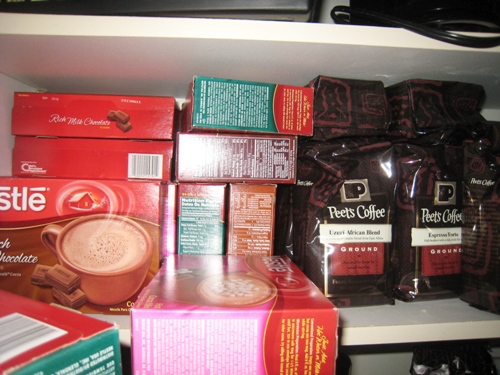 And what made the whole deal even sweeter was that Ralphs had sent me a voucher for $22. I guess that was my rebate for the last two years of using my cloth grocery bags. Who knew? It's not easy being green, but sometimes it pays off in free coffee. Whoo hoo!
It probably sounds crazy that I stocked up on coffee and cocoa, spending $58 for a winter's worth of hot beverages for 8 people. Maybe we better rename this feature, Coffee Geek.
What splurge would YOU stock up on if given the chance?