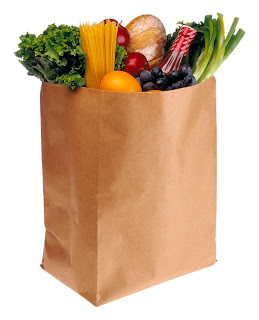 Bright and early Wednesday morning (when the sale ads came out) I checked my grocery total for the month. At my last report, it was $348.72. Oh woe is me! Only $51 to get me through next week. Hmmm…. what's a girl to do?
For those just tuning in, I am on an ambitious mission to cut our grocery budget in half! Last December, FishPapa and I agreed that $800 seemed a reasonable amount to spend based on USDA Food Cost Reports. But somewhere in late winter, I tried out the Grocery Game, discovered Money Saving Mom, and well, my life's not been the same. Neither has my grocery spending. Here's our journey in numbers. Nowadays I'm shooting for $400/month, including all toiletries, groceries, and diapers. I came close to the mark last month at $467, so I really wanted to do it this month.
First, I started praying. Really. God says that He cares about the birds of the air, so certainly He cares about my grocery budget. And I've found that He is faithful to answer these Grocery Geek prayers.
Well, next I checked the ads and only wrote down the items that I thought were really good deals. For more ideas on shopping the sale ads, see my post here.
Then, I made up a meal plan for next week based on what I already had. It turned out that I had the makings for most of our meals. They seem a little redundant of last week, but I can spruce them up with the side dishes. (Come back Monday for the Meal Planning report.)
There were just a few holes to fill, mostly dairy and produce, so it gave me some leeway and the opportunity to score some free deals (or close to) that weren't technically necessities! After Friday morning's shopping outing with my dad and five kids, I was close – $11 over. My grand total for the month was $411! But, the deals were so good, and I had to save FishPapa from Aldi's coffee. (Have you tasted that? Ick!)
I just borrowed from my mad money to make up for it. And how's this for justification – July starts partway through next week. Huh? Ya going for it? Hey! It is a $50 improvement over last month!
Here are some highlights: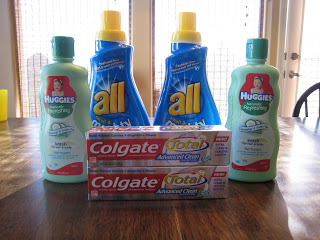 CVS:
ALL Buy One Get One Free $6.19
Huggies Baby Wash (we're using this for handsoap) 2 @ $3.49 = $6.98
Colgate Toothpaste 2 @ $2.99 = $5.98
Subtotal $19.15
Minus $1 All coupon
Minus $1 All coupon
Minus $1 Huggies coupon
Minus $1 Huggies coupon
Minus $1.50 Colgate coupon
Minus $1.50 Colgate coupon
Total $12.15 + tax, paid in ECBs and cash
Received back ECBs for $4 and $4, making these items cost $4.15 + tax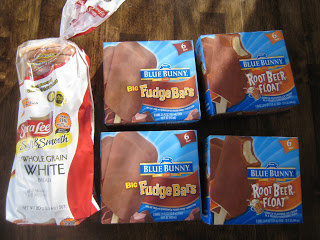 Price Chopper:
4 boxes Blue Bunny novelties $.99 each – $1 coupon = FREE
1 loaf cheap bread = guilt
Lunchable Jrs $.99 – $1 coupon = FREE
Chex Mix $1.18 – $1 coupon = $.18/bag
Honey Bunches of Oats chocolate $2.08 – $2 coupon = $.08/box
Cool Whip $.88
Keebler ice cream cones 2/$3, buy 2 get $1.50 off any ice cream, did this twice
Belfonte ice cream $3.79 minus $.80 coupon = $2.99, minus $1.50 Keebler deal = $1.49
Kashi crackers $2.79 minus $2 coupon = $.79
Cascadian Farms organic broccoli $1.66 minus $1 coupon = $.66
Muir Glen tomatoes $1.18 minus $1 coupon = $.18
This has been Grocery Geek reporting.