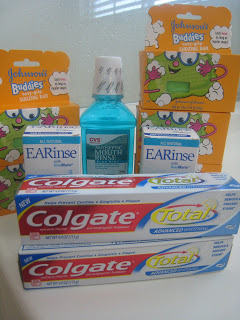 I "purchased" all that is in the photo — for free! Yeah! It feels so good to get something for nothing! Isn't that amazing?
Prior to my adventure in couponing, I regularly bought baby wash for the kids. It comes in a pump container which I like for reducing waste. However, these Johnson Buddies soaps come packaged in this funky green wrapper that helps the soap last longer than a regular bar. These are regularly priced under a dollar at Target and CVS. And since Johnsons & Johnsons releases $1 coupons quite often, these soaps are free! I bought five this week at Target which should last us a couple months. Kid tested, budget approved.
In other shopping endeavors, it had been several weeks since I had been to CVS. There are a few good things about spreading out my CVS trips: it makes the activity fun again and it improves my chances for good coupons to print out of the scanner. Both happened this week.
I received a $5/$30 purchase coupon as well as one for a free mouthwash.
Here's how my transaction went:
2 Colgate toothpaste @$2.99 = $5.98
2 EARinse @$7.99 = $15.98
1 CVS mouth wash $2.79
2 packages Scott paper towels @$5.49 = $10.98
subtotal $35.73 + tax
minus $5/30
minus $2.79 free mouthwash
minus $1 Scott coupon
minus $1 Scott coupon
minus $1 Colgate coupon
minus $.75 Colgate coupon
Total $24.19 in ECBs and cash
Rec'd back ECBs for $5.98 and $15.98 (totalling $21.96), making my "cost" for the paper towels $2.23.
You can do this, too! Check out my CVS primer for February as well as MoneySavingMom's CVS posts.