Grocery Geek Presents: Fresh Produce for Cheap
We are a participant in the Amazon Services LLC Associates Program, an affiliate advertising program designed to provide a means for us to earn fees by linking to Amazon.com and affiliated sites. We participate in other affiliate programs as well. For more details, please see our disclosure policy.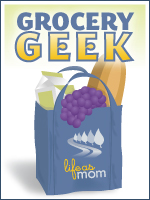 Last weekend I cooked up a bunch of breakfasts to store in the freezer and I lately also made a bunch of marinated meats and enchiladas. So, as far as shopping is concerned, I really only need to focus on fresh produce and dairy and keep an eye out for good deals on pantry staples.
This past week, me and six kids ventured into our local health food store for some fantastic prices on fresh fruits and veggies. Crazy to take such a big group into a store on double ad day, but it was double ad day! The sales were great and we worked it in between a trip to the library and lunch with FishPapa.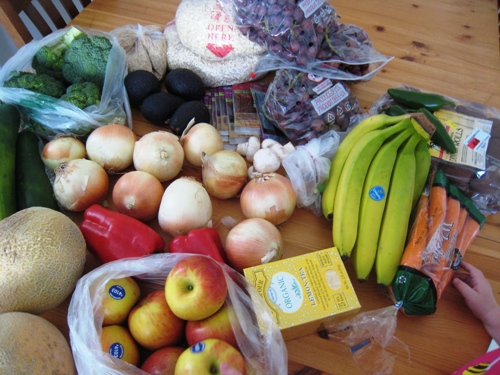 Here's what we got:
clearance bread – $0.99
oats – $0.50/lb
brown rice – $0.99//lb
fruit leather – 3/$1
broccoli crowns – $0.49/lb
carrots – $0.59/lb
melons – $0.49 each
apples – $0.99/lb
tomatoes – $0.49/lb
grapes – $0.88/lb
blueberries (not pictured) – $1.69/18 oz
onions – $0.49/lb
bell peppers – $0.99/lb
avocados – $0.49 each
bananas – $0.49/lb
organic tea – $3.00
jalapenos – $1.69/lb
mushrooms – $2.49/lb
All told I spent $45.49, having spent about $350 for our month with the freezer packed to the gills.
What kind of good deals are you finding in your neck of the woods?