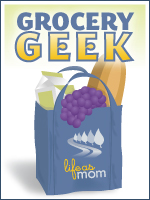 No, I didn't really go pick cherries this week. What I'm referring to is the practice of buying a few great sale items at multiple stores versus the traditional grocery trip of buying all you need at one store, whether or not it's the best sale.
Cherry picking allows me to stockpile on inexpensive items and stay under budget.
This is my general mode of operation, but during busy weeks — which are becoming more frequent that not — I result to shopping at one or two stores where most things are good deals.
However, during exceptionally good sales weeks, I've been known to shop at Costco, Walmart, Target, CVS, Walgreens, Ralphs, Vons, Sprouts, Henrys, and Albertsons. Whew! No wonder I wear myself out sometimes.
I don't think I've shopped all those in one week in a long time. But, since most of those stores are all within about five miles of my house, I can usually run a circuit and tackle them all in one fell swoop. It helps not to bring children along.
And that is what I did this week. I was gone for a little over an hour.
Here's what I nabbed: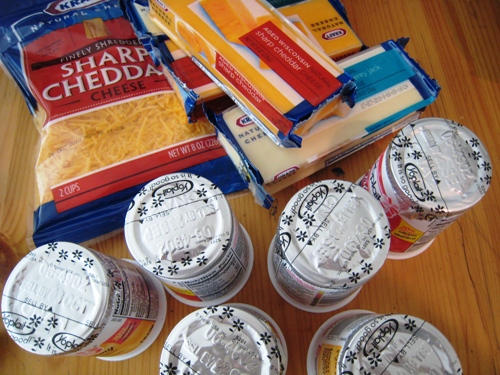 Albertsons had a great Kraft cheese promotion. Each package was $2. Buy 5 and get $5 back. This made the cheese $1 for 8 ounce packages. They also had Yoplait for $0.50 each. I used this Yoplait printable and got the price down to about $0.42 each.
Total spent after coupons and $5 catalina back =$2.60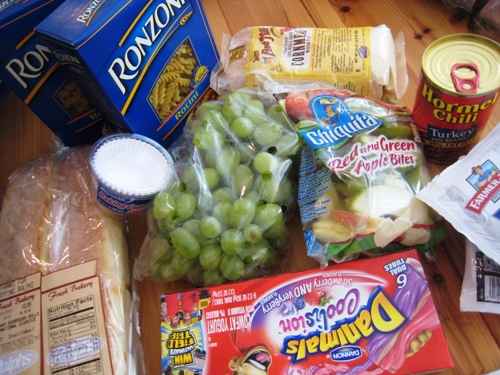 At Ralphs I picked up an odd assortment of stuff. I strolled the markdowns and picked up those odds and ends that are rarely on sale and that I forget to buy (like muffin papers and cornmeal.) Some highlight prices:
Danimals $1.88 minus $1 coupon = $0.88
grapes = $0.69/lb
hot dogs BOGO minus (2) $1 coupons = $1.15 each
Ronzoni pasta $1 minus this coupon doubled = free
Ronzoni pasta $1 minus this coupon = $0.45
marked down rolls = $1.99
apples = free after coupon
Total spent for all pictured = $20.92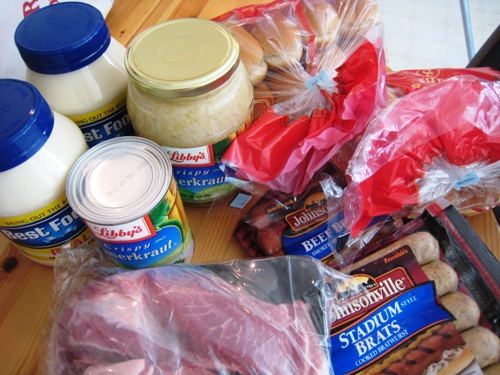 At Vons, I did a little more of the Ralphs routine, I strolled the markdowns and picked up things I usually forget (like sauerkraut).
Highlights from this trip:
Best Foods (Hellmans) mayonnaise = $1.99
pork strips = $1.27/lb
brats BOGO = $2
hot dog buns = $0.69 each
Total spent for items pictured above = $28.53
Last week the kids and I did a big produce run, so my trip to Henry's was just for things that were a great sale not to be missed. Usually we buy a lot of produce here.
pineapple = $0.98
potatoes = $1.50/10lb bag
sour cream = $0.99/16 oz
brown rice = $0.69/lb
poblano chiles = $0.50/lb
garbanzo beans = $0.89/can
Total spent =$18.39
This may not seem like the most efficient way to shop. And it's not if you have far to drive. But seriously, each of these stores was just a few blocks from the next one, so it made it an easy thing to do. I spent $70.44 altogether, working to build our pantry and keep us in the black.