Since my recent reading of In Defense of Food, it's been difficult to walk through the grocery store, filled with boxes of food products that may or may not be that good for us. I really want to feed my family more home-made meals with fewer processed foods, but man, that is tough. I love me some convenience items.
That said, I made some baby steps in what I hope are some improvements in my shopping all the while still saving money.
Albertsons Trip: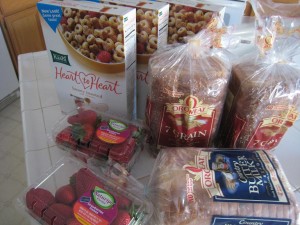 I had three double coupons that were about to expire so I used them on three boxes of Kashi. The cereal was on sale for $2.99, and I had $1.50 coupons. After the doubling, I paid $0.50 for each box. I also had $1 coupons for Oroweat bread and got three loaves for $1.50 each. Finally, strawberries were on sale for $0.99. I bought a few other items like milk and eggs, but they weren't any screaming deals.
Sprouts Shopping: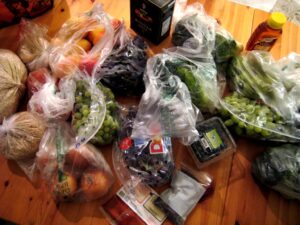 Sprouts is a health food store, much like Henry's or Whole Foods. They usually have fantastic deals on produce and bulk items, so I stocked up on those things.
blueberries $0.99
tomatoes $0.88/lb
apples $0.88/lb
grapes $0.88/lb
green beans $0.88/lb
cukes $0.50 each
lettuce $0.50/head
quick oats $0.50/lb
It has been a fun ride, this healthier eating thing. I still love convenience, but I'm learning to make more of it myself.
Interestingly enough, even though we're making baby steps, our tastes are already changing. The other day, the kids and I had tater tots and fish sticks. And they didn't really like them as well as they used to. Their taste buds would now prefer a real potato and a piece of real fish.
Music to a mother's ears….