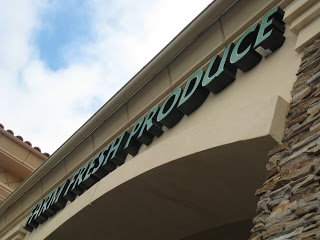 Fresh fruit season is upon us! I'm so thankful for our local health food store. It's pretty much my "go to" place for good deals on fresh produce. Neither the big chain grocers nor the farmer's market can compare when it comes to price. The kids and I made the treck after our free movie on Wednesday which is also "double ad." That means that last week's ad and this week's ad overlap. It's a helpful little gimmick. Even the checker was impressed by what $57.50 bought us: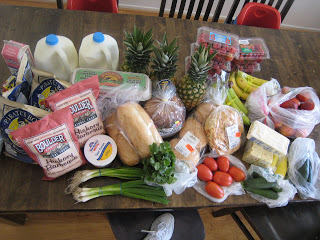 clearance bread $0.79-$0.99/package
butter $2/lb
eggs $1.25/doz
organic eggs marked down to $1.99
milk $1.99/gallon
sour cream $1.69/16 oz
pepper jack cheese $2.99/#
potato chips $1.21/bag after sale and coupons.com coupon
Pirates booty (for my braces boy) $1.50 after sale and insert coupons
organic bananas $.77/lb
cilantro 3/$1
cukes $0.50/ea
green onions 3/$1
squash $0.88/lb
nectarines $0.49/lb
pineapple $1.50 each
romas $0.77/lb
strawberries $0.69/lb!
I hit Ralphs on Friday afternoon — all by myself. 'Twas quite peaceful. Yes, I get my kicks grocery shopping solo.
Haagen Dazs single serve cups 7/$4 after sale and coupons
Orville Redenbacher popcorn $0.69/box using this coupon
Gatorade $0.59
Scott towels 4 gigantor rolls = 12 rolls/$5.99
pickles $0.50 after markdown and coupon
rice $0.50 after markdown and coupon
milk $1.89/gallon
whole chickens $0.59/lb
cheddar wurst $0.99 after markdown
ham $0.99 after markdown
baby food $1.80/4 after coupon
softsoap $1
toothpaste free and $0.25 after sale and coupon
Cheerios (large box) $0.69 each
I had a $5/50 purchase and blew it by forgetting to redeem it. Otherwise, my total would have been a lot less. As it was, I spent $35.58 after sales and coupons.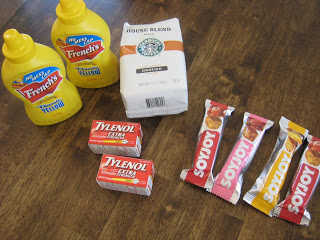 After several weeks of non-CVSing, it was good to get back into it. There are 3 or 4 in my town already and one being built right down the road from us. I'll be rich in CVS – in more ways than one. Here are my deals for the week:
Starbucks coffee $5.49 after sale and coupon
mustard $0.25 after sale and coupons
Tylenol $0.99 after sale and coupons and ECBs
Soy Joy bars free after sale and ECBs
How did you save $ this week? Check out MoneySavingMom's roundup of great deals to see how others are bargain shopping.