8 Ways to Save Money on Groceries
We are a participant in the Amazon Services LLC Associates Program, an affiliate advertising program designed to provide a means for us to earn fees by linking to Amazon.com and affiliated sites. We participate in other affiliate programs as well. For more details, please see our disclosure policy.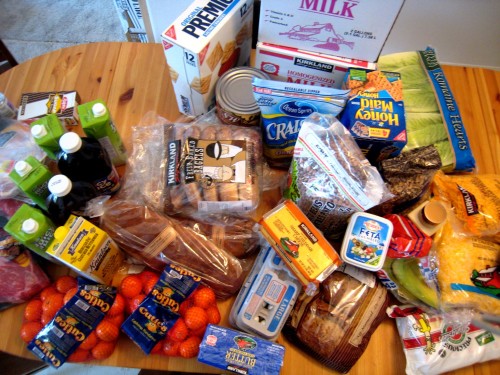 It's a wild thing to think back to paying full price for groceries. Several years ago, I would make my list of what I wanted to cook and head to the store. I'd buy something on sale if it was there, but for the most part, I let our wants dictate what went in the cart. I still don't have our grocery spending as low as I would like, but it definitely falls in the "thrifty" category.
In fact, when I first started shaving down our grocery budget, I consulted the USDA Report on Food Costs. This helped me have an idea of what was a legitimate amount to be spending. At least by government standards. According to the latest report, our family should/could be spending $231.40 per week on groceries. I know from experience that we can live on half that. And even less if we went back to our hard-core rice and beans diet.
And we wonder why the government has so much trouble with money. But, I digress….
That is my advice to someone just starting out. Find a benchmark budget and then work your way down. Each month, try to get by on a little less by using some savvy shopping techniques. Some that I use on a regular basis:
8 Ways to Save Money on Groceries
1. Consult the grocery ads each week and identify the loss leaders that suit your family. Stock up on these.
2. Scan the Sunday Coupon Preview to see if it's worth your while to buy the paper on Sunday. Walmart sells the local newspaper for half the newsstand price, so I usually buy three copies.
3. Browse the coupon offerings at Coupons.com and print the items that you know you'd use. If it's normally a luxury item, clip the coupon anyway; just don't use it until you see a sale for that item.
4. Stock up on things when they are on sale rather than waiting until you need them. Then, they'll be full price. Practice wise stockpiling.
5. Make wise use of club warehouse stores. Our Costco membership is well worth it to us. Not only does it provide a fun, family outing and the best pizza in town, but they regularly have the best prices on dairy, breads, and some produce.
6. Use free product coupons wisely.
7. Cook from scratch as much as possible.
8. Watch for markdowns at the store and match them with coupons where possible.
How do YOU save money at the grocery store?