Many moons ago I worked as a "courtesy clerk," or boxgirl at the local grocery store. In addition to bagging groceries, I spent many an hour helping customers out with their purchases, collecting carts, and putting away that box of cereal you changed your mind on and left in the diaper aisle. (It's okay, I do that, too.)
Working in the grocery industry was a great education for the time when I would be a family shopper. As a teenager I learned how food is stored and handled, what kinds of customers are most annoying, and general food information. I asked questions every time a new item came down the conveyor belt. I also got a good idea for the prices of most things.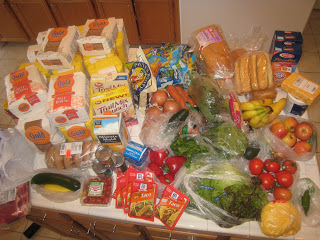 So, I knew that I had done well when the Albertsons boxboy commented on my very full cart today and my very low purchase price. Thank you, coupons! Here's the lowdown on my grocery trip this morning:
Albertsons
Orange juice free after coupon
Pace picante sauce free plus overage after coupon
Trail Mix Plus free plus overage after coupons
onions $0.33/#
romaine $0.99/head
spare ribs $0.99/#
flour $1.49/5# bag (Yes, I really bought 20 bags!)
tomato sauce $0.39
baking soda $1.45
pasta $0.50/#
taco seasoning $0.15/package after sale and coupons
whipping cream $2.89
Steamfresh veggies $0.67/bag after sale and coupons
– $5 off $50 purchase
Albertsons total was $51.28 ($30 was the flour alone)
PLUS, they have a special now that if you buy a gift card for $300, they will add $30 free. So I bought that and used it to pay for this purchase. It doesn't expire and we had the cash to do it. So, I gained 10% on my money. Where else can you do that these days? (Note to self: Just don't blow it on frivolous items.)
Sprouts
clearance bread (still good till next week, longer if I freeze them) $0.99/loaf
corn meal $0.65
yogurt $2.50
colby jack cheese $1.99/#
organic tomato sauce $0.09 after coupon
pirate's booty $1.50
organic cherry tomatoes $0.97
carrots $0.50/#
cilantro $0.33
cluster tomatoes $0.97/#
cukes $0.99 each
lettuce $0.50/head
green onions $0.50
avos $0.77 ea
bell peppers $0.77 ea
bananas $0.67/#
squash $0.77/#
Sprouts total $30.25
Not bad for $81.63, eh? A great morning's work, I think. Check out this post for some great prices to shoot for in lowering your overall bill.
Come back Sunday night to see how we'll be feasting this week.