I didn't spend the whole week shopping. Honestly. But, from this post, it would seem so. Rather, I had good coupons and no outside commitments this week, so it worked well in our family's schedule for me to do some shopping. As I explained in the comments of a previous post, all the stores that I shop at are located within 1-4 miles of my house, so it's easy to pop out and run some errands. I try to make several stops during an outing to make it worth the trip out.
Right now the cupboards are pretty balanced. We don't really need a whole lot to function in the food department. I've been able to cook from the stockpiling I've done over the past month. This is basically how I try to operate these days, stocking up on a good sale before I need it and have to pay "the going rate." Crystal did a great job explaining this "buying ahead" practice this week. Take a few minutes to read her post as it's a very helpful practice, one that helps us stay in the black.
Here's what I did to "buy ahead" this week: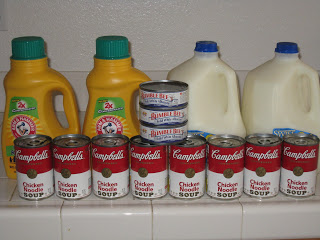 CVS finally has offered some good sales now that they've transferred their Longs stores over to their system. If you're a Longs shopper, read my tutorial for you here.
Arm and Hammer laundry soap – Buy One Get One Free = $3/bottle
Campbells chicken noodle soup – $0.50/can
hormone free milk $1.29 after ECBs
Bumble Bee tuna, solid white albacore – $0.77/can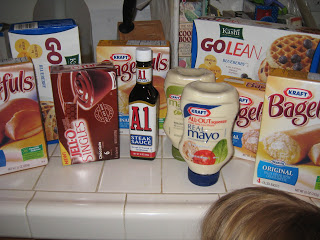 Target
Bagelfuls $1.99 – $1 coupon = $0.99/4pk (Thanks, coupons.com!)
Kashi waffles $1.99 – $1.50 coupon = $0.49/box
Jello singles puddings – free after coupon
Kraft mayo $1.99 – $1 coupon (Thanks, coupons.com!)
A1 Steaksauce $2.84 – $2 coupon = $0.84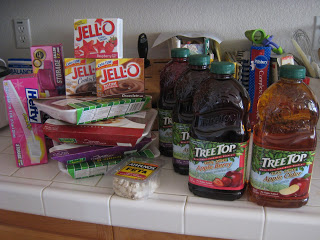 Vons
Jennie-O Italian sausage Buy one, get one free = $2.50/package
juice $0.99 after sales and coupon
feta cheese $1 after sales and coupon
Hefty storage bags $0.50 after sales and coupon
Jell-O gelatin &pudding $0.66 after sales and coupon
5# sugar 1.30 after sales and coupon (not pictured)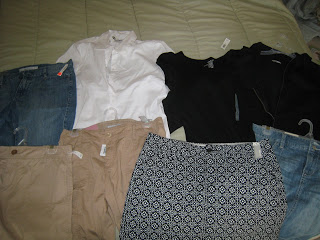 Old Navy
I was able to get a $50/$100 purchase coupon from Old Navy Weekly this past Sunday night (Thanks, Surviving the Stores!) That made all that is pictured here half-off. I spent $66 total on new clothes. And I got to shop all.by.myself!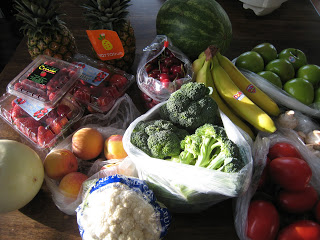 And just to reassure you that we don't subsist on Jell-O, juice, and sausage, I also bought this on sale at our local health food store.