If your favorite grocery store is one of the big names, such as Safeway, Kroger, or Albertsons, then chances are you've found a blog (or twelve) that regularly report the good deals and how you can save a buck at those shops. But, believe it or not, there are still stores out there that don't belong to big conglomerations. They may be individual mom and pop grocers or small chains that work within a smaller geographical area.
And, believe it or not, they've got good deals, too. The trick is to get to know how your store works and take advantage of its strengths. Here are some things to think about or research about the store nearest you:
When does the ad come out? When does the ad start? Are there "double" ad days (where the sales of one week overlap the sales of the next week)?
What is their coupon policy? Will they double? Do they have limits?
Do they do mark-downs? What days do they "clearance" items?
Can you get a discount for buying in bulk?
What is their specialty? For instance, is this the place to get really fresh produce, dairy or meat?
How do their "loss leaders" compare to other, bigger stores?
You may be surprised to find out that they are just as good if not better than bigger name stores, depending on what you buy. I am blessed to live within driving distance of two smaller grocery chains that appear to be high priced, but actually have some fantastic deals and specialize in wholesome, healthy foods.
Here's what I'm talking about. This past week I spent $50 on the following items: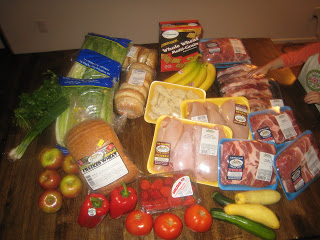 Everything pictured here is wholesome, healthy food with few, if any preservatives. The prices of almost everything here were sale prices:
romaine hearts (3 pk) $.99
green onions $.50
cilantro $.50
zucchini and crook neck squash $.77/#
red bell peppers $.77
strawberries $1.49
apples $.77/#
tomatoes $.77/#
bananas $.77/#
bagels $2/6 pk
country style pork strips $1/#
baby back beef ribs $1/#
chicken nuggets $1/#
boneless, skinless chicken breast $1.99/#
Milton's crackers $2/box – $1 coupon = $1
This isn't a big chain. There are only 5 or 6 locations in the state. And, in fact, it's a "health foods store" so a lot of their items are really expensive. But, I've learned that I can get killer deals by getting to know the store and limiting my purchases to what's on sale.
I bet you can, too.